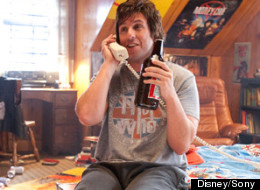 Adam Sandler is back to his raunchy, R-rated ways, but are critics -- and audiences -- ready for it?
"'That's My Boy' is one of the most disgusting, morally reprehensible films I have ever had the displeasure of sitting through," write Jonathan R. Lack from WeGotThisCovered.com. "Shocking the audience may be one of the cornerstones of intelligent comedy, but offending without insight or reason is the bedrock of lowbrow humor," he added.
Whether it's so-bad-that-it's-good or just bad is yet to be determined, but, at the time of this writing, 24 percent on Rotten Tomatoes. Do with that what you will.
When it comes to Disney Pixar's "Brave," a second act plot twist left a sour taste in some critics' mouths. Have Pixar's halcyon days passed?
"A once-complex house of stories has been downgraded to the happy meal alternative: 'Brave' is a movie for six-year-olds," wrote IndieWire's Eric Kohn.
Can these harsh critiques all be right? Or do these writers simply need to take a chill pill and relax? Let us know which critical torpedoes landed on deserving targets and which fell wide of the mark in the comments.
There seem to be two camps forming when it comes to "Rock of Ages": one which found the musical film to be a cheesy -- if overlong at more than two hours -- delight; the other which found it unbearable. The New York Observer was on the latter side. I haven't seen a movie this bad since 'Battlefield Earth' and 'Howard the Duck'... The filthy, disgusting script is by three people who should remain nameless, but I can hardly believe one of them is Justin Theroux, a good actor who would do the world a favor if he dropped his laptop off the top of the Chrysler Building.

With a 64 percent on Rotten Tomatoes, "Brave" isn't exactly getting the raves reviews that "Toy Story" received, but is this the worst Pixar movie ever? According to Slant magazine, it comes pretty close to flirting with disaster. But ultimately the film offers nothing more than a caricature of a well-worn conceit (a princess doesn't fit into her shiny box, so she just breaks all the rules and does what she wants), neatly repackaged for another generation of young moviegoers who haven't met Princess Jasmine from Aladdin and don't realize that they're eating yesterday's leftovers.

Usher's seventh studio release, Looking 4 Myself, may be headed for the No. 1 spot on the Billboard 200, but is this really the best Usher's got? HuffPost Entertainment doesn't think that Looking is worth all of the hype. That this effort is being praised as Usher's "best album since 2004's near-perfect Confessions," probably has more to do with the mediocrity of Here I Stand and Raymond v. Raymond than with Looking. Billboard touted the disc as a "next-level soul album" and praised its "shimmering keyboard flourishes of EDM," but these lush descriptions seem like a stretch.

Say what you want about TNT's "Dallas," but the only thing The Hollywood Reporter has on its mind is the unbelievable age-gap between the characters. The trail of bad ideas surrounding the revamping of 'Dallas' by TNT is a long one. A very long one... If TNT thought it was a good idea to toss in a bunch of young actors pretending to be the children of the above-mentioned, very old actors, tremendous. We are a math-challenged country.

For some critics, "That's My Boy" is Adam Sandler's return to R-rated raunch is gloriously grotesque. However, for others, especially WeGotThisCovered.com, it was just grotesque. "That's My Boy" is one of the most disgusting, morally reprehensible films I have ever had the displeasure of sitting through. It asks us to laugh at situations any sane human would find horrific, and desires our sympathy for detestable characters, all without having anything intelligent, meaningful, or the least bit redeeming to say about its subject matter.

"Your Sister's Sister," a Duplass Brothers dramedy about ever-complicated relationships, received mostly positive reviews, scoring an 85 percent on Rotten Tomatoes, but that doesn't mean everyone loved it. The filmed tied up everything too neatly for The New York Times. Unfortunately the easygoing mood does not last. The film's late swerves into melodrama and the neighboring region of farce feel panicky and pandering. The subtlety of the performances -- Ms. DeWitt's in particular -- is sacrificed for easy laughs, shallow tears and a coy trick ending. Just when it was starting to get interesting.