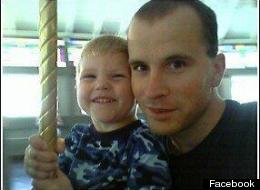 The instant a dad holds his child for the first time, he instinctively becomes a protector –- the hero who will do whatever it takes to safeguard the baby he brought into this world.
And while he spends his days providing a roof over their heads –- and food on their plates –- in his heart, this hero always knows that his ultimate role is to shield his progeny from pain, and stop at nothing to make sure their dreams come true.
Today, we would like to a moment to honor the dads who unconditionally embody this tenant. The fathers who will sacrifice their own lives for the lives of children who need them and do whatever it takes to bring them the utmost joy.
SLIDESHOW: HONORING 5 HEROIC DADS
When Spc. Dennis Weichel saw an Afghan boy in danger of getting hit by an armored vehicle, the father of three instinctively lifted the child out of harm's way. But the brave warrior was then tragically struck and killed by the more than 16-ton truck. "Specialist Dennis Weichel's life was marked by bravery, selflessness and commitment to others," Gov. Lincoln Chafee told WPRI, "and unfortunately it was in demonstrating these remarkable characteristics that it was lost."

When gunmen started shooting at Fredrick Martin and his 8-year-old-son, the young father quickly used his body to shield his child and took bullets to the abdomen and upper torso. The 28-year-old Inglewood, Calif., dad died soon after arriving to the hospital and police said they had "no idea why this shooting would have happened."

When Chris Cox rescued a 43-year-old woman from a burning car, he said he was channeling the will of his son who he lost to suicide, KTVY reports. Cox's son, Danny, had dreamed of becoming a firefighter before a car accident left him paralyzed. "I thought, 'I'm doing this for you, buddy," Cox told the news source. "This is what you wanted to do.'"

After his son committed suicide in 1999, Steven Fugate walked a total of 30,000 miles across the U.S. carrying a simple sign that read, "Love Life," KTVU reports. While the 65-year-old no longer has the strength to share his message on foot, he remains steadfast in his mission. "I stay determined to spread the suggestion, 'LOVE LIFE' as a mindset that can most definitely enable us ALL to get past ALL adversity in our lives."

Though Patrick Hughes, 23, was born without eyes and gets around in a wheelchair, he fulfilled his dream of becoming a world-renowned musician, thanks to his dad. Hughes's father worked the graveyard shift, so he could attend classes and band practice with his son who went on to graduate magna cum laude from college. "I never had any doubt Patrick could do it," Hughes' dad told the Miami Herald. "The only question was whether I could do my part."
Check out tweets below from our readers about their heroic dads, and tell us what makes your dad a hero in the comments below.