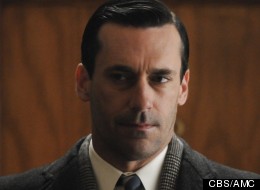 It's the time of year to celebrate fathers all over the world ... even the fictional ones on our TV screens.
But when HuffPost TV took a look at some of the dads from our favorite TV shows, we realized that many of them aren't the best fathers. So this Father's Day, we rounded up 17 small screen paternal figures who make us appreciate our own dads.
Next time you're frustrated with your father, just think: At least he ... doesn't cooking meth (We're looking at you, Walter White), doesn't keep your zombified family locked up in a barn (Cough cough, Hershel Greene, cough cough) and many more "at leasts."
From Dexter to Don Draper, take a look at the TV dads we're lucky aren't ours this Father's Day.
TV Dads That Make Us Grateful For Ours
... Isn't a sociopathic serial killer.

... Doesn't bring multiple moms into your life (only to cheat on them).

... Isn't drunk more than he's sober.

... Doesn't cook meth.

... Doesn't blame you for your mom's death and take all the glory in the game.

... Didn't lie to you about secret siblings and didn't seemingly try to cover up your best friend's murder.

... Doesn't leave it up to you to help him up after having sex with your mom in the shower.

... Didn't name you George Foreman.

... Didn't cut you off and not help you when he found you crack-addicted in an alley.

... Didn't hide a brother -- his illegitimate son -- from you until his death, when his will forced the two of you to battle for your inheritance in a twisted 8-bit video game.

... Didn't cheat on your mom with hookers and her soon-to-be best friend.

... Didn't pay your mom to stay inside your apartment while she was pregnant with you.

... Didn't have a thing with your grandma.

... Didn't cheat on your mom with a student and force you to move to Iceland and then hate your boyfriend who hypocritically did the same thing.

... Doesn't keep your zombified family in a barn.

... Isn't a sex addict.

... Isn't featured on "Teem Mom."