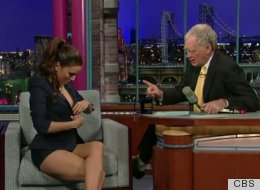 By this point, it's pretty obvious that we are obsessed with our favorite celebs having embarrassing wardrobe malfunctions.
But seeing pictures of Lisa Rinna's nips through a sheer black dress on the red carpet or catching shots of former Pussycat Doll Nichole Scherzinger almost exposing her cha-chas on a boat in Monaco are nothing compared to seeing skirts drop on live television!
We may be super grateful for the invention of double-sided tape, but unfortunately, when the cameras go live not even double-sided tape can save these celebs from spilling out of their clothes.
What have we learned from the videos below? Don't do push-ups in a skirt, and "Dancing With The Stars" is the most dangerous place for celebs who fear exposing their bits to the world.
Check out the videos below to see the most cringe-worthy wardrobe malfunctions caught on-air!
Best On-Air Wardrobe Malfunctions
NEW YORK CITY, NY-MARCH 18, 2012: Former Real Housewife and Skinny Girl fashionista, Bethanny Frankel, really flashes the entire audience of Anderson Cooper's talk show "Anderson" when she tries to demonstrate how she does push-ups. Whoops! She took the malfunction in stride though, quickly laughing it off and asking the audience, "how'd it look?"

NEW YORK CITY, NY - APRIL 6, 2011: This Desperate Housewife was already looking quite seductive while on Late Show with David Letterman. Longoria's leggy look was overshadowed by her jacket, however, when [0:45] her button came undone and exposed what we can only assume was quite a sight, leaving Letterman stunned and stuttering.

NEW YORK CITY, NY - JUNE 7, 2011: The Kardashian sisters never stray too far from controversy. Donning a very sheer, black top with NO bra on Fox and Friends while promoting the new season of "Keeping Up With the Kardashians," Khloe Kardashian's nipple made it's debut on live television. Khloe matched her transparent top with equally transparent look, having NO idea that her nip had slipped. She later Tweeted, "I had a nip slip and I loved it!"

LOS ANGELES, CA - SEPTEMBER 26, 2011: Nancy Grace is our first stop on this whirlwind tour of wardrobe malfunctions on Dancing With The Stars. The feisty HLN host wowed the audience with her Quickstep, and wowed them again when her boob made an appearance at the very end of the performance [1:24] while she was being dipped by partner Tristan McManus. After the boob went viral Nancy Grace refused that the slip ever happened, claiming that she was in fact wearing Breast Petals.

LOS ANGELES, CA - SEPTEMBER 2006: DWTS proves again to be a dangerous place for celebrities. High School Musical star Monique Coleman is the next victim, flashing the audience during a fast-paced dive. Although her skirt slipped pretty far down, exposing much of her butt, Coleman never skipped a beat and continued dancing like a pro! Seriously, props to her!

LOS ANGELES, CA - MAY 7, 2012: DWTS wardrobe mishap #3. Welsh singer Katherine Jenkins looked gorgeous during a sexy Cha Cha trio, the first trio on the show! The glamorous star looked sexy in a suit, and even sexier when her two male partners ripped the suit off, exposing a dangerously low-backed dress. The only problem was that the pants didn't want to come off!

LOS ANGELES, CA - SEPTEMBER 2011: If you've gotten sick of DWTS at this point, it's understandable. However, Cloris Leachman may be the funnest celebrity to watch on the show, EVER! The Emmy award-winner (in her 80s!) has always been known for her comedy, and she definitely brought it to DWTS, however, she still fell prey to the wardrobe malfunction curse of the show. During this performance, she Jived until her wig fell off.