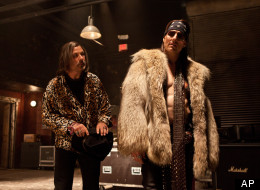 As it turns out, audiences didn't want to rock. Despite weeks of pre-release hype, Tom Cruise's "Rock of Ages" earned just $15 million over the weekend, putting the musical adaptation in third place behind "Madagascar 3" and "Prometheus." The holdovers from last week earned $35.5 million and $20.2 million, respectively.
For Cruise, who stars in the Adam Shankman film as flamboyant and shirtless singer Stacee Jaxx, "Rock of Ages" marks his worst wide release opening since "Lions for Lambs" in 2007. (Though, to be fair, that film opened on just 2,200 theaters while "Rock of Ages" screened in just under 3,500 venues.)
While things were bad for Cruise, they were worse for Adam Sandler. "That's My Boy," Sandler's first Happy Madison-produced R-rated comedy, finished in fifth place with just $13 million. That ranks as the worst live-action opening for Sandler from a Happy Madison film -- the production company behind all of his big hits -- since "Littly Nicky" in 2000.
For the full box office chart, head over to Box Office Mojo.
"Rock of Ages" is exuberant, silly, overlong, sexist; it's clever in little matters and proudly dumb in the things that should count.

The actors are having a lot of fun, and the production values of the musical numbers are slick and high-spirited.

"Rock of Ages" is an effulgent celebration of fakeness. It isn't trying to be real; it's trying to be faker than any fake thing has ever been before.

Most of the numbers in Rock of Ages are flatly shot and choreographed, and they look as if they'd been edited together with a meat cleaver. With rare exceptions, they don't channel the excitement of the music - they stultify it.

A shameless crowd-pleaser where cardboard characters use the most overplayed and ubiquitous hits of the 1980s to express the aching banality of their souls.

As with Shankman's knowingly naff 'Hairspray', the sheer performance gusto on display proves thoroughly winning.

Like every one of its songs, it makes a lot of noise about nothing much and cockily straddles awfulness and greatness. It's enormously entertaining nonsense.

If the Adam Shankman film's debasement of its subject into campy kitsch is the unavoidable fate of all culturally dangerous art, that doesn't make it any less palatable.

Given the proliferation of high-school musicals and American idols on TV, the spectacle of aspiring young singers belting out an umpteenth cover of Journey offers little in the way of novelty value.

[Shankman] succeeds in draining most of the fun from a vehicle that was all about the winking humor of its flagrant cheesiness.