Fifteen plus and counting, Rihanna doesn't seem to be stopping anytime soon when it comes to her growing tattoo collection.
The singer recently stopped by Bang Bang Tattoos on New York City's Lower East Side to get tatted up -- this time with an Egyptian falcon in the shape of a gun.
"Falcon: a light that shines in the darkness! Never close their eyes during sleep," the singer tweeted Saturday, along with a photo of her new body art.
Rihanna's weapon-inspired tattoo comes on the heels of her ex-flames' violent fight at a New York nightclub. Chris Brown and Drake were involved in the bar brawl that left members of the singers' camps and innocent bystanders injured. No arrests have been made in connection with the altercation.
Check out RiRi's new tat below: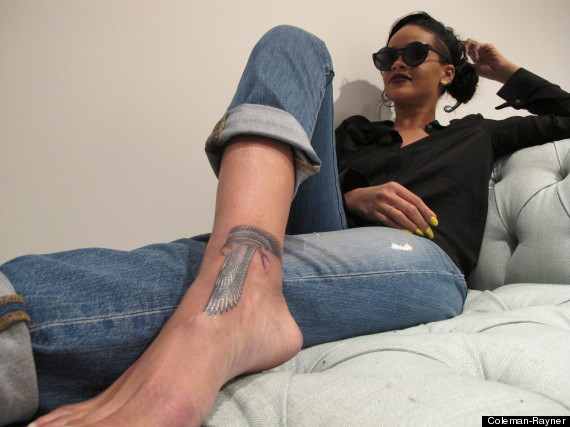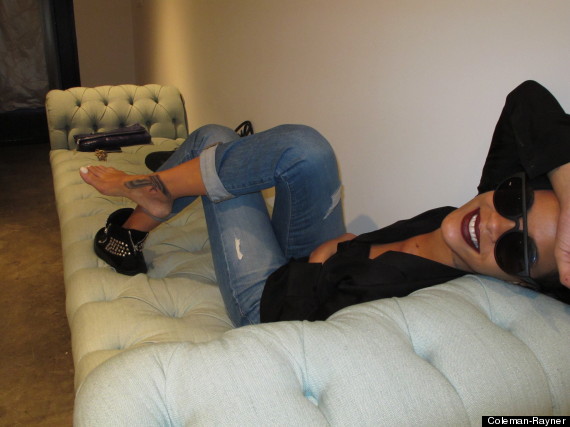 Check out Rihanna's fellow tattoo aficionado Miley Cyrus:

Loading Slideshow
Marriage Equality

Miley's latest tattoo, a small equals sign on her ring finger, symbolizes marriage equality. "All LOVE is equal," <a href="http://twitter.com/#!/MileyCyrus/status/97123873685897216" target="_hplink">she tweeted</a> with a picture of her new ink. She also has a heart and a cross on her fingers.

Anchor

The singer showed off a new anchor tattoo on her wrist in Spring 2011.

Dreamcatcher

Miley decided to get an image of<a href="http://www.people.com/people/article/0,,20463606,00.html" target="_hplink"> a dream catcher on her torso</a> earlier this year. The drawing is reportedly of a similar dream catcher that hangs over her bed, with its four feathers representing her siblings.

'Just Breathe'

Miley got the phrase "Just Breathe" tattooed on her rib cage, <a href="http://www.huffingtonpost.com/2010/11/08/miley-cyrus-shows-off-jus_n_780440.html" target="_hplink">reportedly as a tribute</a> to a friend who died of cystic fibrosis.

Love

In 2010, Miley decided to get the word "LOVE" inked on her ear. However, she rarely wears her hair up, so the tat stays pretty hidden -- most of the time.
Also on HuffPost: