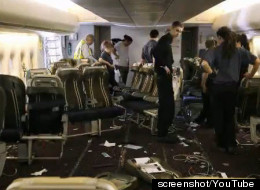 Virgin Atlantic is giving its fleet a face lift, starting with Barbarella. According to the airline's YouTube page, the Boeing 747 is the first to be updated. She's part of the fleet that serves the U.S. and the Caribbean from Gatwick, Manchester and Glasgow airports.
In the time-lapse video, Barbarella is completely stripped down and given a fresh paint job and a spiffy interior. Check out what it takes to refurb a plane in the video above.
Virgin Atlantic is no stranger to keeping its fleet and staff on its toes. Just last week we learned that the airline debuted its own rom-com, shot at 35,000 feet. Since its flight attendants are known as the hottest in the industry, it's no surprise that Virgin has offered us a way to emulate its ladies in red with the launch of "upper class red" lipstick available to passengers. The fab cabin crew is also taught to speak in hushed tones to have a calming effect on passengers.
It might not matter, though. Virgin Atlantic passengers are also allowed to use their cell phones in flight.