Weight Loss Success: Latrice Pace Found A Passion For Living And Lost Nearly 100 Pounds
Got a success story of your own? Send it to us at success.stories@huffingtonpost.com and you could be featured on the site!
Name: Latrice Pace
Age: 39
Height: 5'3"
Before Weight: 270 pounds
How I Gained It: I was abandoned after seven years of marriage. When life suddenly shifted, I immediately went into survivor mode. I was tired and unfulfilled. I found comfort in worship, yet the matters of my heart were unresolved. I was frustrated that my husband never found his way home. I was frustrated that I had to eventually give up the comfort of what I called home and my greatest frustration was the dose of self-hatred I was ingesting every morning as I looked in the mirror.
I ate nothing in moderation and I knew nothing about portion control. I ate until I was content, usually when I had over-eaten. I love chocolate and cheesey, crunchy things, so my daily snacks would consist of a Snickers and Cheetos. It was normal for me to have a dessert after lunch and dinner. I didn't think twice about pulling up at a drive-thru window.
Not long after my divorce was final, my daddy passed. I noticed my gradual weight gain, but I couldn't seem to get a handle on it. About a year later my brother passed and that was it. In my opinion, both my daddy and brother's death could have been prevented if they had committed to healthy lifestyles.
For years I had tried to lose weight. I even said what many of you are saying -- "But I've tried everything!" I spent many years dieting, but I didn't commit to a lifestyle change. I would cheat, I would binge, I didn't incorporate exercise and most importantly, I didn't renew my mind.
Breaking Point: One morning while looking in the mirror, I said enough. I was done with crying and complaining about all of the things that were in my power to change. I then decided to make a list that consisted of two columns. I labeled the left side "Things That Are In My Power To Change." The right column was labeled "Things Only God Can Change" and one by one I began to check things off the left side of my list. The right side? Well, let's say I've been granted the serenity to accept them. They are in God's hands.
How I Lost It: Through prayer and counseling I am now healing from emotional injuries; some I didn't even know were there. I'm educating myself about my body, food and exercise. I am being transformed because I'm now committed to a life of healthy living.
My brother's passing gave me a passion for life. I'm doing everything in my power to live a healthy life. Balance is key. Exercise is not an option, and I must continue to challenge myself beyond my comfort zone in order to gain results. I exercise six days a week doing a variety of things to keep it exciting, like Spin, Zumba, strength training, walking, running, boot camp, jumping rope, DVDs -- everything!
Food is not the enemy. I had to learn how to control my portions and when was the best time of day to eat certain things according to my activity level. I eat carbs early in the day and turn to protein and veggies as the day progresses. I never reward myself with food. Although I enjoy everything in moderation, there are some foods I simply stay away from. I put much more thought into what I eat and the nutrients it will or will not provide for my body. I steam my veggies and fruit is always part of my day.
My transformation fueled a passion to inspire others through song. I recorded and released a fitness song called "Be The Change" to motivate people to get up and move.
After Weight: 176 pounds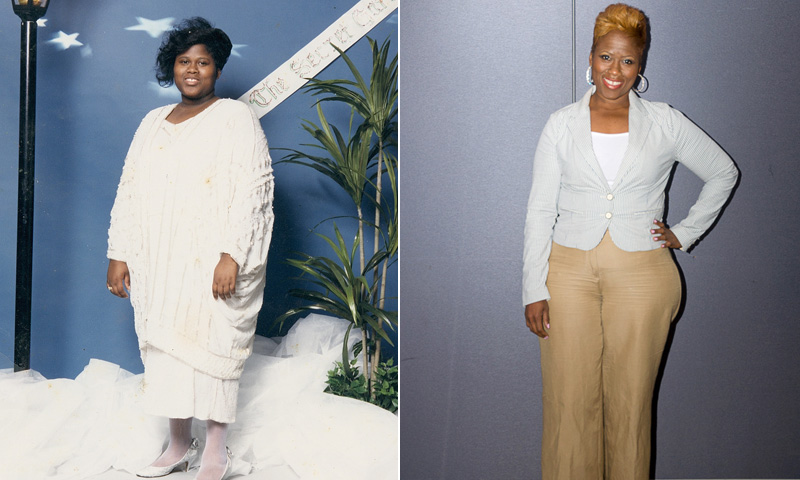 "After" photo by Jason McCoy Photography
Check out more of our inspiring weight loss stories below:
Weight Loss Success Stories
For more on weight loss, click here.
CORRECTION: An earlier version of this article misspelled Latrice Pace's last name.