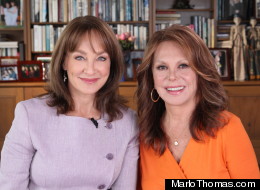 Dr. Nancy Snyderman, Chief Medical Editor for NBC News, joined me on Mondays With Marlo to answer your burning health questions and give tips on everything from getting through menopause to managing bad breath.
Check out more useful health tips from Dr. Nancy Snyderman:
Health Tips From Dr. Nancy Snyderman
Schedule doctor's appointments on your birthday - this way you'll never forget to go!

Treat your trip to the doctor like a trip to the grocery store - bring a list of all of your questions and concerns.

If you have a problem, go to the doctor with a timeline. Your physician may have better insight into your condition if you bring in a detailed history.

Take a pen and paper with you. If you're equipped to take notes, you're less likely to miss important information your doctor shares.

Keep records. It's important to keep track of your medical history - it could help diagnose or treat a future issue.

Ask ... is this test or medication necessary? Never be afraid to ask your doctor about their recommendations.

Ask ... are there alternatives? If you're not comfortable with a procedure or the cost of a treatment there may be another way.

Make sure all of your doctors communicate with each other. It's important to ensure that your treatments do not interact.

Know necessary screenings for every age. If you aren't sure - just ask!

Keep up-to-date on vaccinations. It's easier to prevent an issue than to treat it.

Plan ahead for travel. You may need to take preventative measures before heading to certain destinations.

Talk about end of life. If this is a concern, your doctor may be able to speak with you about what to expect.

Fill out a donor card. This quick gesture may help save someone's life.

Have a living will. You never know what's going to happen, and this could help safeguard your loved ones in the future.

Don't be afraid to challenge your doctor. You should be an active participant in your health care, not a bystander.

Trust your body and trust your instinct. Sometimes you can sense things that others may not be able to detect.
Add Marlo On Facebook:
Follow Marlo on Twitter:

Weekly Newsletter

Sign up to receive my email newsletter each week - It will keep you up-to-date on upcoming articles, Mondays with Marlo guests, videos, and more!

Sign up here