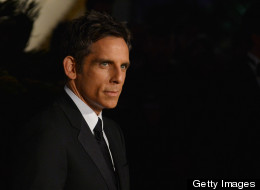 Ben Stiller gets a 15-page profile in the latest edition of The New Yorker, a fascinating piece that not only illustrates how difficult it is for an A-list actor to remain on the A-list, but also how exacting Stiller is as a filmmaker. Writer Tad Friend got unprecedented access to Stiller as he developed the 2013 comedy-adventure "The Secret Life of Walter Mitty" for Twentieth Century Fox. It's basically a must-read for anyone who ever purchased a movie ticket, an inside look at big-budget movies that even goes way beyond eye-opening recent interviews with Barry Sonnenfeld and Adam McKay.
In addition to being a striking look inside the world of Stiller, The New Yorker piece also lays out in no uncertain terms exactly what Hollywood executives are looking for in their blockbusters: safe repetition. Last year, nine of the 10 highest grossing movies were sequels. This year, only three sequels are in the current top-ten -- "Men In Black 3," "Madagascar 3: Europe's Most Wanted" and "Journey 2: The Mysterious Island" -- but the rest of the list is filled with pre-sold franchises like "Marvel's The Avengers," "21 Jump Street," "The Hunger Games" and "Snow White and the Huntsman." All of which is to say, movies, now more than ever most risk-taking ventures are viewed side-eyed by Hollywood executives. (Though not all: In addition to "Mitty," Fox is producing the high-concept, big-budget adaptation of "Life of Pi," which the studio is already selling on the basis of its originality.)
Ahead, five quotes from a variety of Hollywood heavy-hitters painstakingly explain Hollywood economics in 2012.
1. "If I say to Fox that this movie is like 'Little Miss Sunshine' or 'Eternal Sunshine of the Spotless Mind,' they freak out, understandably, because they're spending real money and they need to sell it as a big comedy." - Stiller, on "The Secret Life of Walter Mitty."
2. "Our owners don't need us to swing for the fences at all costs in hopes we can justify our existence. If we don't make smart decisions, they'll just reduce the number of films we make." - Unnamed studio head.
3. "You have to feel a movie is special enough to have a chance to get the teenager off the couch from playing 'Call of Duty' with his friends. But movies that are really special are big risks, and big risks are the hardest ones to say yes to." - Rob Moore, vice-chairman of Paramount Pictures.
4. "The bigger the budget, the cleaner the concept needs to be. Because you need to appeal not just to all four quadrants, but to people who speak every language under the sun. So ambiguity and darkness are tough." - Adam Fogelson, chairman of Universal Pictures.
5. "A person may come across differently in each market. A robot is a robot around the world." - Stacey Snider, DreamWorks Studios CEO.
For more on Stiller, including a detailed breakdown of his "Walter Mitty" pre-production process, head over to The New Yorker. The article is paywalled, but it's certainly worth a purchase.
RELATED
Cost: $44 million Worldwide gross $3.4 million Total losses: $40.6 million Director Michael Cimino had all sorts of cachet following his Oscar-winning work on "The Deer Hunter." His next feature? This costly mess, which is still synonymous with Hollywood hubris gone mad, 32 years after its release. Like "Cutthroat Island" did with Carolco, "Heaven's Gate" eventually led studio United Artists to shutter its doors.

Cost: $55 million Worldwide gross: $14.3 million Total losses: $40.7 million The road to ruin. The Warren Beatty and Dustin Hoffman comedy (from director Elaine May) was rife with post-production woes, which led to bad pre-release buzz. As the late Mike Nichols, May's former comedy partner, said: "['Ishtar'] is the prime example that I know of in Hollywood of studio suicide."

Cost: $115 million Worldwide gross: $18.5 million Total losses: $96.5 million The movie that sunk (sorry) both Renny Harlin's directing career and production company Carolco, though who could be surprised? Even Harlin and star Geena Davis knew "Cutthroat Island" -- about a female pirate -- was bad news from the start. "We begged to be let go. We begged that we didn't have to make this movie," he told KCRW last year. "We felt that a pirate movie with a female lead was suicidal, but we were contractually obligated."

Cost: $160 million Worldwide gross: $61.9 million Total losses: $98.1 million Directed by John McTiernan ("Die Hard") and eventually re-cut by author Michael Crichton (who wrote "Eaters of the Dead," which the film was based on), "The 13th Warrior" was another career-altering bust. The film left such a sour taste in the mouth of co-star Omar Sharif that he retired from acting for four years.

Cost: $103 million Worldwide gross: $29.7 million Total losses: $73.3 million Based on the book by L. Ron Hubbard, "Battlefield Earth" was one of the worst-reviewed films ever. Perhaps star John Travolta would have had better luck bringing "Dianetics" to the big screen?

Cost: $105 million Worldwide gross: $10.3 million Total losses: $94.7 Thanks to star Warren Beatty's meticulous nature, this romantic comedy took three years and millions of dollars to produce. When it was finally released in 2001, audiences didn't care: "Town & Country" was an all-time bust and marks the last time Beatty appeared onscreen.

Cost: $120 million Worldwide gross: $7.1 million Total losses: $112.9 million From "Holy Man" to "Showtime" to "Meet Dave" to "A Thousand Words," Eddie Murphy is dependable for one thing: box-office washouts. "Pluto Nash" was his most notorious, a $100 million space "comedy" that couldn't even gross $5 million in total at the domestic box office.

Cost: $74 million Worldwide gross: $7.2 million Total losses: $66.8 million Jennifer Lopez was right: It was "turkey time."

Cost: $145 million Worldwide gross: $25.8 million Total losses: $119.2 million Forget "The Alamo."

Cost: $120 million Worldwide gross: $48.6 million Total losses: $71.4 million How do you know this James L. Brooks romcom was doomed for disaster from the start? Look at the reported budget, which spiraled out of control after reshoots.

Cost: $175 million Worldwide gross: $38.9 million Total losses: $136.1 million Lost in the uncanny valley. The Robert Zemeckis-produced motion-capture spectacle, "Mars Needs Moms," was such a costly mistake, Disney canceled the director's plans to remake "Yellow Submarine" in a similar fashion.

Cost: $325 million Worldwide gross: $219.9 million Total losses: $105.1 million Despite over $100 million in domestic grosses, "Green Lantern" wound up being a write-off for Warner Bros. Worse, any hope to turn this fringe comic character into a franchise like "Iron Man" -- one that could produce income for the studio for years to come -- was lost for years. (Warner Bros. announced plans to reboot "Green Lantern" in 2020.) Hal Jordan wasn't kidding about that whole "blackest night" thing.

Cost: $375 million Worldwide gross: $282.7 million Total losses: $92.3 million John Carter of flops. The costly live-action debut from Pixar director Andrew Stanton reportedly lost Disney $120 million, this despite grossing almost $300 million worldwide.

Cost: $210 million Worldwide gross: $303 million "Battleship" earned $300 million worldwide, but because of high costs, the film reportedly lost Universal parent company NBC $150 million.