Happy first day of summer!
The hottest season is here -- And what's a better way to celebrate than taking a look at these sizzling new items to debut at Dwell On Design?
The home decor exhibition, created by our friends at Dwell Magazine, will take place on Friday June 22 in California, but we're bringing you an exclusive sneak-peek at these fabulous products.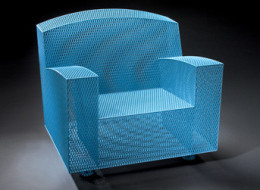 Photo by Damian Velasquez.
From a modern interpretation of a traditional club chair to a modular portable home, these innovative goods will definitely have you feeling that summer loving.
Click through out slideshow to get inspired! And if you're feeling enamored with one item, remember, you can always buy online!
For more information head over to Dwell on Design.
Designed by Damian Velasquez, this light blue outdoor club chair will definitely keep you cool while lounging since it's made from stainless steel! (Dwell on Design)

Don't have a summer home? Well, now you can have one shipped to you! This truly amazing modular system from Connect Homes allows for completed homes to be shipped anywhere in the world! (Dwell on Design)

Not only do they hold your flowers, but these Potted City Planters are pieces of art with their unique shapes and bold looks. (Dwell on Design)

These WUD Plates aren't just for eating. They are pieces of table art that are made from either light maple or dark walnut wood! These are perfect for entertaining or to just look at! (Dwell on Design)

This David Trubridge light fixture will definitely add contrast to any indoor room, but because it can be used outdoors, it's the perfect piece to accent any summertime shindig. (Dwell on Design)

Forget sleeping bags! With this G-Pod in your backyard, you'll be able to avoid wind, rain and sun glare by just rotating it into a different position. (Dwell on Design)

Kohler has teamed up with designer Jonathan Adler to create colorful kitchen and bathroom sinks. A must have for summer renovations, these sinks come in four amazing colors: Greenwich Green, Piccadilly Yellow, Palermo Blue and Annapolis Navy! (Dwell on Design)
Have something to say? Be sure to check out Stylelist Home on Twitter, Facebook and Pinterest.