ANA Jet's Landing Is So Rough, Plane's Fuselage Is Bent (VIDEO)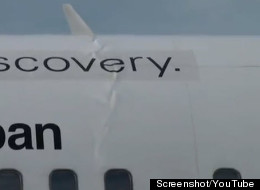 We've seen our fair share of scary plane landings. Footage taken in Bilbao, Spain once showed planes bouncing around in the wind as they attempt to land. And, earlier this year, a video of planes making tricky touchdowns in high winds at Germany's Dusseldorf International Airport went viral.
Here's another example of a landing gone awry, this time from Kyodo News in Japan. The video shows an ANA jet (identified by Gizmodo as a Boeing 767) bouncing off the runway as it attempts to land. The damage is evident a few seconds in, when a ruffle can be seen in the aircraft's fuselage. Watch for yourself above.