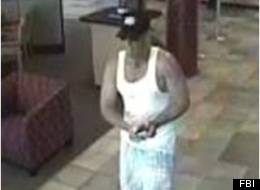 A burly thief has been nicknamed the "Bare Arm Bandit" for wearing tank tops during two recent bank robberies in Southern California.
In an effort to catch the sculpted culprit, the FBI and police yesterday released surveillance photos from the heists on June 7 and 16 at Wells Fargo locations in Santa Ana.
Besides donning either a white or black tank top to show of his physique during the robberies, the suspect rounds out his ensemble with a black baseball cap and sunglasses.
Story continues below
A man called the "Bare Arm Bandit" by police in Southern California is believed to be responsible for two bank robberies in two weeks in Orange County.

The so-called "Bare Arm Bandit" is accused of robbing a Wells Fargo in Santa Ana on June 7 and another Wells Fargo in the same town on June 16.

The FBI and police warn that the bank thief could be carrying a weapon.
He's about 25 years old, 6 feet tall, "muscular" and "unshaven," according to an FBI statement.
During the stickups he appeared impatient, according to the FBi's description, and simulated to bank employees that he was carrying a weapon stuck in his waistband.
The Santa Ana police and Orange County sheriff's department are involved in the investigation. Anyone with information is asked to call 911 or the FBI's Los Angeles office at 888 CANT HIDE (888 226-8443).