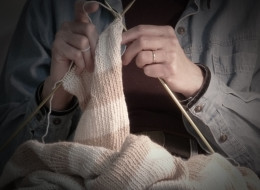 We believe using the name "Ravelympics" for a competition that involves an afghan marathon, scarf hockey and sweater triathlon, among others, tends to denigrate the true nature of the Olympic Games. In a sense, it is disrespectful to our country's finest athletes and fails to recognize or appreciate their hard work.
You have inferred that we are disrespecting the athletes and fail to recognize their hard work, well you sir, fail to understand how you have insulted more than 17.4 million US households that crochet, not to mention the millions of knitters, hand spinners, weavers and other fiber artists that are striving to keep dying arts alive in their communities.
Celebrities Caught Crafting
SUBSCRIBE AND FOLLOW
Get top stories and blog posts emailed to me each day. Newsletters may offer personalized content or advertisements.
Learn more