Data collected by the American Consumer Satisfaction Index (ASCI) reveals that McDonald's, despite being the top fast food company in revenue, ranks in last place in customer satisfaction.
The study, which looked at several limited-service restaurants, placed McDonald's at 73 percent satisfaction. Papa John's, in comparison, led the pack with 83 percent. On the whole, chains averaged at the 80 percent mark.
It's worth noting that this year's numbers for McDonald's, while lowest among the restaurant chains examined, is the company's highest customer satisfaction in the ASCI data presented, which goes back to 1995.
The Chicago Tribune also writes that despite McDonald's consistently low rates of customer satisfaction -- it's ranked lowest for the last several years -- it has made some strides in this area:
The chain has shown significant improvement in the past decade, up from 61 percent satisfaction in 2002. Competitors Burger King and Wendy's have posted smaller gains over the last decade, but their ratings were still higher in 2011.
The news comes as McDonald's Canada's attempts to win customers with a more transparent approach, which now includes a video explaining why its burgers look different in advertisements than in real life.
See all the ACSI rankings for limited-service restaurants below: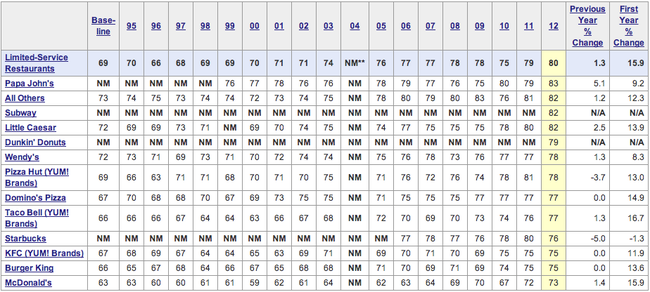 Also on HuffPost:
America's Biggest Fast Food Chains
Loading Slideshow
10. Sonic

America's Drive-In rounds out the top 10 with U.S. revenues of $3.6 billion.

9. KFC

KFC, the biggest chicken vendor in America, comes in ninth with revenues of $4.7 billion, though there were 107 fewer outposts in August 2011 than there were the year before.

8. Pizza Hut

<a href="http://www.huffingtonpost.com/2011/07/27/pizza-hut-ads_n_911106.html" target="_hplink">Good ads</a> equal big revenues for the biggest pizza chain in America. Pizza Hut took in a solid $5.4 billion in 2010.

7. Dunkin Donuts

America runs on Dunkin' to the tune of $6 billion a year -- that's almost $20 for each and every person in the country.

6. Taco Bell

2010 U.S. revenues of $6.9 billion make Taco Bell the biggest Mexican restaurant chain in the country.

5. Starbucks

Starbucks may have had a few hiccups <a href="http://www.huffingtonpost.com/2011/07/13/starbucks-bistro-boxes_n_897768.html" target="_hplink">when it comes to introducing food</a>. But its success in beverages has propelled American's biggest coffee purveyor into fifth place among fast food chains, with 2010 revenues of $7.6 billion.

4. Wendy's

Wendy's fries may be <a href="http://www.slashfood.com/2011/04/20/wendys-fries-vs-mcdonalds-fries-taste-test/" target="_hplink">number one</a>, but its revenues aren't there quite yet.

3. Burger King

Number two burger chain Burger King was sold for $3.26 billion to 3G Capital in 2009. 2010 revenues of $8.6 billion make that sound like a deal to us! (We know, we know, there's a difference between revenues and profits...)

2. Subway

Subway has the most outlets of any fast food brand; it expanded that total by 816 in the past year alone. But because each store is relatively small, revenues, at $10 billion, pale in comparison with those at the number one chain.

1. McDonald's

With revenues standing at a whopping $32.4 billion in 2010, the Golden Arches aren't being dethroned any time soon. What's surprising about its success is that per store sales at McDonald's are bigger than those even cult-ish brands with fewer outlets. With $2.4 million <em>per store</em>, they're second only to Chick Fil-A, which fans travel miles to visit.