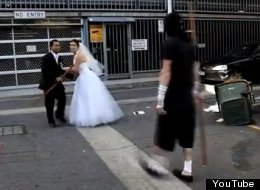 Most engaged couples experience obstacles on their way to the altar, but none as ridiculous as what Australian newlyweds Wendy Gowing and Gary Pore faced.
The pair spent more than a month filming a wedding entrance video that included a Benny Hill-style race, a ninja battle, and short trip on a children's scooter and bicycle -- all in full wedding attire.
According to AdelaideNow, the pair wanted a "light and fun" wedding, and decided to add the ninjas because of two of Gowing's young relatives.
"The ninjas were inspired by my two little nephews. They think that Gary, because he's Asian, is a ninja," Gowing told the paper. "Every time we babysit them, Gary puts a jumper over his face and pretends to be a ninja."
Gowing and Pore aren't the only pair to stage an elaborate entrance video. Watch theirs above, then click through the slideshow below for other couples who had outrageous wedding entrances.
We've seen plenty of bridal parties dance down the aisle, but this bride shocks just about everyone at her ceremony when she busts out dancing to "I Will Follow Him," made popular by the 1992 movie "Sister Act." Is her choreographed routine amazing, or just awkward?

This wedding procession starts off slowly to a Pachelbel's "Canon In D," but gets taken over by C&C Music Factory's pumped-up tune "Gonna Make You Sweat." Watch the video to see the flower girls, bride and even the groom break it down.

Unlike other videos we've seen, the bridal party dancing down the aisle at this wedding reception genuinely looks like they're having a good time. Especially the groom.

According to the YouTube description of this video, Aaron and Teri's wedding ceremony entrance dance actually came before the famous JK Wedding Entrance Dance. In this video, the ceremony turns into an over-the-top musical with bridesmaids, groomsmen, and even the bride dancing down the aisle. The wedding party waltzes in to classics such as Michael Jackson's "Thriller," and Madonna's "Like A Virgin." The bride's song of choice? Chaka Kahn's "Aint Nobody."

Some say this video started it all.
Keep in touch! Check out HuffPost Weddings on Facebook, Twitter and Pinterest.