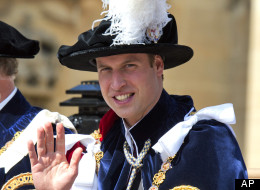 Prince William turns the big 3-0 today.
And while reports say he's keeping the celebrations low-key -- with wife Princess Kate and a few close friends -- here at HuffPost Impact we'd like to mark this milestone in a champagne-bottle-popping kind of way, and take a look back at how this once trend-setting-teen royal has grown up into a benevolent prince, determined to help those in the most need.
SLIDESHOW:
Prince William's Charitable Efforts
Five years after taking on the role of president of the Royal Marsden Hospital -- a position once held by his late mother -- Prince William and his wife opened one of the largest comprehensive children's cancer centers in Europe, US Weekly reports. The royal couple partook in the hospital's opening ceremonies in September and visited with the young cancer patients.

Black rhinos have become critically endangered because they're killed for their horns, and Prince William is determined to do something about it. In an interview with the BBC, the animal rights activist called the illegal practice "ignorant, selfish and utterly wrong" and said that "if we don't do something about them, it's going to be a tragic loss for everyone."

To develop a real sense of the struggles homeless people face, Prince William -- who serves as patron for the charity Centrepoint -- slept on London's chilly streets one night in 2009, the AP reports. "I hope that by deepening my understanding of the issue, I can help do my bit to help the most vulnerable on our streets," he told the news outlet.

Instead of gifts, Prince William and Kate asked their wedding guests make a donation to one of 26 charities they selected, which included Beatbullying, a nonprofit that offers mentoring programs to young people in the U.K. affected by bullying.

Because caring for veterans' well-being is a main focus of his foundation, Prince William headed off to the U.S. to find out how to better address such pressing issues as veteran employment. While speaking at a hiring event in Los Angeles in July 2011, the benevolent royal remarked: "We have much to learn from you. Thank you for this opportunity."