Prayers, Meditations, And Wisdom Inspired By The Ocean And Beach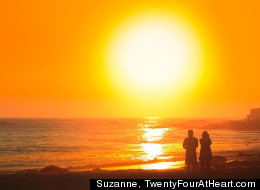 People seeking spiritual renewal and inspiration have always turned towards the ocean for religious rites and metaphors for deep wisdom. Enjoy these beach meditations and offer your own in the comments.
Special thank you to Suzanne, a photographer at TwentyFouratHeart.com for sharing her beach photography for our summer meditation project.
If starry space no limit knows And sun succeeds to sun, There is no reason to suppose Our earth the only one. 'Mid countless constellations cast A million worlds may be, With each a God to bless or blast And steer to destiny. Just think! A million gods or so To guide each vital stream, With over all to boss the show A Deity supreme. Such magnitudes oppress my mind; From cosmic space it swings; So ultimately glad to find Relief in little things. For look! Within my hollow hand, While round the earth careens, I hold a single grain of sand And wonder what it means. Ah! If I had the eyes to see, And brain to understand, I think Life's mystery might be Solved in this grain of sand.

"You are the Ocean of Water, and I am Your fish.Your Name is the drop of water, and I am a thirsty rainbird." ~ Guru Arjan *special thanks to HuffPost community member @americanturban

The praisers praise the Lord, but they do not obtain intuitive understanding the streams and rivers flowing into the ocean do not know its vastness. Even kings and emperors, with mountains of property and oceans of wealth -these are not even equal to an ant, who does not forget God. - Guru Nanak *special thanks to HuffPost community member @americanturban

"When anxious, uneasy and bad thoughts come, I go to the sea, and the sea drowns them out with its great wide sounds, cleanses me with its noise, and imposes a rhythm upon everything in me that is bewildered and confused." - Rainer Maria Rilke

One night a man had a dream. He dreamed he was walking along the beach with the Lord. Scenes from his life flashed across the sky and he noticed two sets of footprints in the sand, one belonging to him and the other to the Lord. When the last scene of his life had flashed before him, he recalled that at the lowest and saddest times of his life there was only one set of footprints. Dismayed, he asked, "Lord, you said that once I decided to follow you, you'd walk with me all the way. I don't understand why, when I needed you most, you would leave me." The Lord replied, "My precious child. I love you and I would never leave you. During your times of trial and suffering when you saw only one set of footprints... That was when I carried you." By Mary Stevenson

Love builds up the broken wall and straightens the crooked path. love keeps the stars in the firmament and imposes rhythm on the ocean tides each of us is created of it and i suspect each of us was created for it"

One Universal Creator God. By The Grace Of The True Guru: The Pandit - the religious scholar - recites the Shaastras and the Simritees; the Yogi cries out, ""Gorakh, Gorakh"". But I am just a fool - I just chant the Name of the Lord, Har, Har. I do not know what my condition shall be, Lord. O my mind, vibrate and meditate on the Name of the Lord. You shall cross over the terrifying world-ocean. - Guru Ram Das *special thanks to HuffPost community member @americanturban

You are the Ocean of Water, and I am Your fish. Your Name is the drop of water, and I am a thirsty rainbird. You are my hope, and You are my thirst. My mind is absorbed in You. Just as the baby is satisfied by drinking milk, and the poor person is pleased by seeing wealth, and the thirsty person is refreshed by drinking cool water, so is this mind drenched with delight in the Lord. Just as the darkness is lit up by the lamp, and the hopes of the wife are fulfilled by thinking about her husband, and people are filled with bliss upon meeting their beloved, so is my mind imbued with the Lord's Love. The Saints have set me upon the Lord's Path. By the Grace of the Holy Saint, I have been attuned to the Lord. The Lord is mine, and I am the slave of the Lord. O Nanak, the Guru has blessed me with the True Word of the Shabad. - Guru Arjan *special thanks to HuffPost community member @americanturban

As I lay on the sand And look up at the sky I can see the sun shining like a diamond up high The whooshing waves wash endlessly upon the shore These are the sensations of summer that I adore Nothing could replace this moment Not anything I pick myself up Step in to the sea Forget all my thoughts so my mind is free As all my troubles drift away from me I go deeper into the rushing water, letting the waves take control These are the sensations of summer that I adore via PoetryinNature.com

God is no stranger in a faraway place, He's as close as the wind that blows cross my face, It's true I can't see the wind as it blows but I feel it around me and my heart surely knows that God's mighty hand can be felt every minute for there is nothing on earth that God isn't in it - The sky and the stars, the waves and the sea, the dew on the grass, the leaves on a tree are constant reminders of God and His nearness, proclaiming His presence with crystal-like clearness- So how could I think Gad was, far, far away when I feel Him beside me every hour of the day, and I've plenty of reasons to know God's My Friend and this is one Friendship that time cannot end!

"The sea does not reward those who are too anxious, too greedy, or too impatient. One should lie empty, open, choiceless as a beach--waiting for a gift from the sea." - Anne Morrow Lindbergh

"The three great elemental sounds in nature are the sound of rain, the sound of wind in a primeval wood, and the sound of outer ocean on a beach" - Henry Beston

Three quarters of the earth's surface is covered by water. The ocean conceals billions of creatures interacting in ways that we will never fully understand. Much of the ocean is mysterious. We cruise along on boats on the ocean's surface, and sit on beaches watching the ocean's surf meet the land. One of the great things about the ocean is that we cannot build on it. It will remain a vast open space perfect for contemplation. via FamilyFriendPoems.com

Long days of summer here at last Enjoy them now for soon they'll pass. Take some moments; reflect and refresh Long days of summer, a welcome repast. Via BellaOnline.com

Let the heaven and earth praise Him, the seas, and every thing that moveth therein. *Special thanks to HuffPost commenter, LittleFish31617.

Deep calls to deep at the thunder of your cataracts;all your waves & your billows have gone over me. *Special thanks to St. Phillips church who suggestion this addition. Follow them on Twitter here.

"The cure for anything is saltwater - sweat, tears or the sea." - Isak Dinesen *Special thanks to @HealthyLiving associate editor Sarah Klein for her addition. Follow Sarah on Twitter here.

With sea levels rising, enjoy the beach as long as you can. A contribution from HuffPost Religion commenter, Jelle NL.

"O my mind, vibrate and meditate on the Name of the Lord. You shall cross over the terrifying world-ocean." ~ Guru Ram Das *Special thanks to HuffPost community member @americanturban

"We ourselves feel that what we are doing is just a drop in the ocean. But the ocean would be less because of that missing drop." --Mother Teresa

In the words of Swami Vivekananda: "One day a drop of water fell into the vast ocean. When it found itself there, it began to weep and complain just as you are doing. The great ocean laughed at the drop of water. "Why do you weep?" it asked. "I do not understand. When you join me, you join all your brothers and sisters, the other drops of water of which I am made. You become the ocean itself. If you wish to leave me, you have only to rise up on a sunbeam into the clouds. From there you can descend again, a little drop of water, a blessing and a benediction to the thirsty earth." via Vivekanandahouse.org

Just as the soft rains fill the streams, pour into the rivers and join together in the oceans, so may the power of every moment of your goodness flow forth to awaken and heal all beings, Those here now, those gone before, those yet to come. By the power of every moment of your goodness... May your heart's wishes be soon fulfilled, as completely shining as the bright full moon, as magically as by a wish-fulfilling gem. May all dangers be averted and all disease be gone. May no obstacle come across your way. May you enjoy fulfillment and long life. For all in whose heart dwells respect, who follow the wisdom and compassion of the Way, May your life prosper in the four blessings, of old age, beauty, happiness and strength. Special thanks to Huff Post Religion commenter Cindbird for this suggestion

It's a beautiful the mistic ocean. I'm intoxicating because a unknown mystery. The Ocean feel as my inside world and the surf break as drops of water. The soul was very lonely so came to see a the Ocean's kept a dreamed and It wanted to be similiar to the Ocean. The wide the Ocean is the native place of everything life very long time ago. At the Ocean my mind is easy fall in love if exist person that well suit to me. I felt the cold weather of life so I came to the Ocean. Here I seek for that The dream of my soul. Sometimes the Ocean was melancholy and furious. It shows to we irdirectly that the various foms of the life I want eagerly that always as friend I'll do with Ocean and permenently I'll live to keep the dream of Ocean. John Kim via PoemHunter.com

Little Manannan, son of Lieirr, who blessed our land, Bless us and our boat, well going out And better coming in with living and dead in the boat. - By: W.Y. Evans-Wentz. 1910 *Special thanks to HuffPost Religion Facebook friend, Phoenix Moonshadow

My soul is full of longing For the secret of the sea, And the heart of the great ocean Sends a thrilling pulse through me. - Henry Wadsworth Longfellow

You Yourself are the ocean and the boat. You Yourself are this shore, and the one beyond. O All-knowing Lord, You are the True Way. The Shabad is the Navigator to ferry us across. One who does not fear God shall live in fear; without the Guru, there is only pitch darkness. - Guru Nanak *special thanks to HuffPost community member @americanturban

By Guru's Grace, my mind is attached to the Naam, the Name of the Lord. Asleep for so many incarnations, it is now awakened. I chant the Ambrosial Bani, the Glorious Praises of God. The Pure Teachings of the Perfect Guru have been revealed to me. Meditating in remembrance on God, I have found total peace. Within my home, and outside as well, there is peace and poise all around. I have recognized the One who created me. Showing His Mercy, God has blended me with Himself. Taking me by the arm, He has made me His Own. I continually chant and meditate on the Sermon of the Lord, Har, Har. Mantras, tantras, all-curing medicines and acts of atonement, are all in the Name of the Lord, Har, Har, the Support of the soul and the breath of life. - Guru Arjan *special thanks to HuffPost community member @americanturban I have obtained the true wealth of the Lord's Love. I have crossed over the treacherous world-ocean in the Saadh Sangat, the Company of the Holy. Sit in peace, O Saints, with the family of friends. Earn the wealth of the Lord, which is beyond estimation. He alone obtains it, unto whom the Guru has bestowed it. O Nanak, no one shall go away empty-handed.

To myself I am only a child playing on the beach, while vast oceans of truth lie undiscovered before me. - Isaac Newton

In every curving beach, in every grain of sand there is the story of the earth. - Rachel Carson

The voice of the sea speaks to the soul. The touch of the sea is sensuous, enfolding the body in its soft, close embrace. - Kate Chopin

The sea, once it casts its spell, holds one in its net of wonder forever. - Jacques Cousteau

That day Jesus went out of the house and was sitting by the sea. And large crowds gathered to Him, so He got into a boat and sat down, and the whole crowd was standing on the beach. And He spoke many things to them... - Matthew 13:1-2

You must not lose faith in humanity. Humanity is an ocean; if a few drops of the ocean are dirty, the ocean does not become dirty. - Mahatma Gandhi

You can't cross the sea merely by standing and staring at the water. Don't let yourself indulge in vain wishes. - Rabindranath Tagore

If I ride the wings of the morning, if I dwell by the farthest oceans, even there your hand will guide me, and your strength will support me. - Psalm 139: 9-10