Aaron Bennett, Army Veteran, Banned From Old Navy Store After Uniform Scuffle (VIDEO)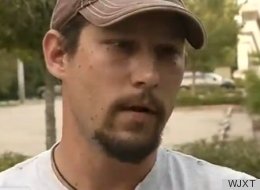 UPDATE: Old Navy sent us the following statement: "Old Navy has the utmost respect for the military and we're proud of our longstanding tradition of supporting American troops, including our own employees and their family members who serve. We spoke to Mr. Bennett and apologized for any miscommunication that may have occurred while he was shopping at our store. We also reiterated that he and his family are welcome, as always, to shop at any of our stores. We're truly sorry for any misunderstanding or offense caused by this incident."
PREVIOUSLY: An Army veteran claims an Old Navy store in Jacksonville, Fla., kicked him out after he commented to the store's management about an employee's uniform.
Aaron Bennett says he was shopping at the store's location in Orange Park when he noticed an employee wearing something unusual: a Marines dress uniform that "had rank on the side, couple rows or ribbons and a weapons badge," he said. It's illegal in the United States under the "Stolen Valor" act for civilians to impersonate military by wearing uniforms or medals.
Bennett, who comes from a military family, said he told the store manager about the staff member's apparel. He claims he was then approached by a deputy and members of mall security, who told him he was banned from the store.
Old Navy's corporate headquarters says the matter was a "misunderstanding" in a statement it gave to WJXT in Jacksonville:
"Old Navy has the utmost respect for the military and we're proud of our longstanding tradition of supporting American troops, including our own employees and their family members who serve. We believe there was a misunderstanding between a customer and a store employee and are looking into the matter. We're truly sorry for any misunderstanding or offense caused by this incident."
But the alleged incident is already causing controversy on the Internet. "As a military family, we will no longer be able to shop in your stores," writes one commenter on Old Navy's Facebook page, amidst dozens of similar messages. Others refuse to take Bennett's side, like one writer on the Metro Jacksonville forum: "Wearing military dress gear as "fashion" is kinda tacky and rude but for this guy to have been banned or whatever? He must've been making a hell of a scene about it. If he had issue with it, he could have brought it up to the person directly in a respectful manner, not run up to the manager and whine to them."
Jacksonville is home to the largest naval base in the Southeastern United States.
Read more at WJXT, including Bennett's response to Old Navy's apology.
Want more? Be sure to check out HuffPost Style on Twitter, Facebook, Tumblr and Pinterest.