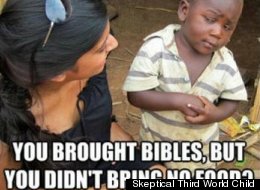 A new meme called "Skeptical Third World Kid" takes a blunt dig at the world of humanitarian aid by highlighting common stereotypes with LOLcats-style captions.
What might children in impoverished or disaster-stricken countries really be thinking when charities distribute T-shirts leftover from the Super Bowl? Or when celebrities swoop in amid famine or conflict to deliver relief?
The meme attempts to fill in the blanks by giving voice to aid recipients in a tongue-in-cheek way. What do you think of "Skeptical Third World Kid"? Let us know in the comments below.
Slides used with permission from QuickMeme.com.