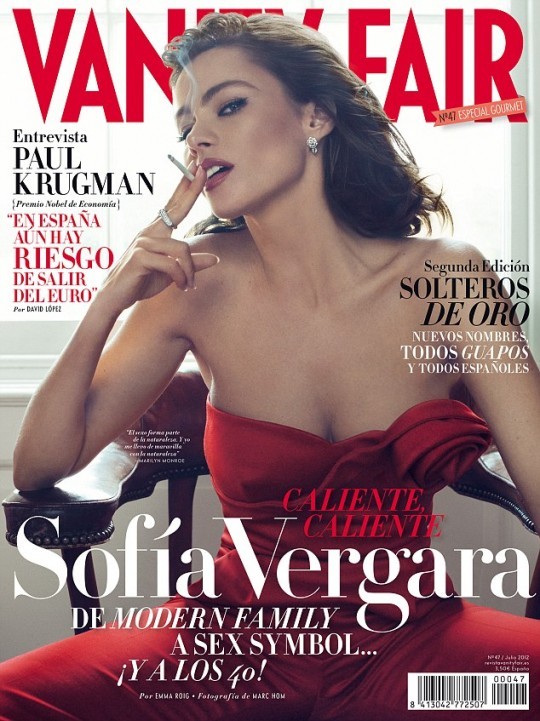 Sofía Vergara fue la elegida para aparecer en la portada de la revista Vanity Fair España. En la sensual imagen vemos a la colombiana luciendo un jumpsuit rojo, con el cabello suelto, aretes de diamantes y labios carmín. Pero lo más sorprendente de todo es que la actriz sostiene un cigarro entre sus dedos ¡y está fumando!
Hubo una época en la que el hábito de fumar era considerado como sofisticado, pero con todo el conocimiento que se tiene hoy día acerca de lo dañino que es el tabaco, resulta sin duda muy extraño que una revista de moda promueva este tipo de imágenes.
En años recientes se ha intentado cambiar ciertos paradigmas de la moda. Se busca por ejemplo, que las modelos luzcan cuerpos saludables y que ni las pasarelas ni las revistas glorifiquen las siluetas en extremo delgadas. Y en ese mismo sentido se ha tratado de señalar que los medios de comunicación no deberían promover conductas no saludables, como lo es el fumar. Por eso es que aunque Sofía Vergara luce impresionante en la portada de la publicación española, esta imagen no deja de confundirnos.
Lo que es innegable es que Sofía Vergara, a punto de cumplir 40 años, luce más hermosa que nunca. Las fotografías que se le tomaron a la protagonista de "Modern Family" para el número de julio de Vanity Fair son en general sofisticadas y sensuales, y en ellas podemos verla luciendo atrevida ropa interior, una sobria gabardina, así como un vestido de manga larga y voluminosa falda.
MIRA EL DETRÁS DE CÁMARAS DE LA SESIÓN DE FOTOS DE SOFÍA VERGARA CON VANITY FAIR:
Los looks de Sofía Vergara
SUBSCRIBE AND FOLLOW
Get top stories and blog posts emailed to me each day. Newsletters may offer personalized content or advertisements.
Learn more