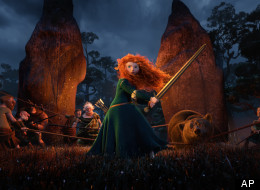 "Brave" didn't receive the type of critical response that Pixar is used to, but audiences don't seem to care. The animated family adventure earned $24.5 million on Friday night, putting it on track for $66 million or more by Sunday night. That gives Pixar its 13th straight number one film at the box office.
UPDATE: Pixar's winner took in another $23.5 million on Saturday, per Deadline.com. The film will bring in $66.7 million by the end of its first weekend, striking a chord across age and gender demo lines.
Bad news for Honest Abe: "Abraham Lincoln: Vampire Hunter" came in third ($16.5 million), trailing "Madagascar 3." The latter film is in its third week, so it looks like the mash-up genre "Lincoln" was testing out may face some future hesitation from studio execs.
The Times' Dave Itzkoff provides this week's box office joke:
@ditzkoff

Dave Itzkoff
For more from Sunday box office, head over to Deadline. The original article continues below.
The opening for "Brave" falls right in line with last summer's Pixar offering, "Cars 2." That film -- released on this same weekend in 2011 -- grossed $25.7 million en route to a $66.1 million opening. Overall, "Cars 2" earned $191 million at the U.S. box office and over $559 million worldwide. The one hurdle that remains for "Brave" in the long term: Whether young boys will push their parents to see the film once they hear that it's a quintessential mother-daughter story with only a smattering of action set pieces. (Fingers crossed they do, since the message of "Brave" -- that parents are often as fallible as their children -- is really something boys and girls should enjoy and appreciate.)
While "Brave" heads for a happy ending, "Abraham Lincoln: Vampire Hunter" can't seem to shake its fate as a box-office flop. Despite reports early on Friday from Deadline.com editor Nikki Finke that the genre hybrid was headed for as much as $20-25 million over the three-day frame, THR.com notes that "Abraham Lincoln: Vampire Hunter" will be lucky to hit $17 million overall. The Tim Burton production -- from "Wanted" director Timur Bekmambetov -- earned just $6.3 million on Friday night, putting it behind "Madgascar 3: Europe's Most Wanted" on the box office chart.
"Seeking a Friend for the End of the World," the weekend's other wide release, didn't fare too well either. The Steve Carell indie dramedy finished in 10th place with just $1.2 million on Friday. It will gross less than $5 million overall for the weekend.
For complete box office numbers, check back to HuffPost Entertainment on Sunday.
[via THR]
Moms and girls everywhere deserve this movie, absolutely, and I hope they have a great time. But they also deserve much more, and much better.

The animation studio's first film with a female protagonist, a defiant lass who acts as a much-welcome corrective to retrograde Disney heroines of the past and the company's unstoppable pink-princess merchandising.

Merely a dull amalgam of modern Mouse House idiosyncrasies.

It's a rousing adventure and a hilarious comedy, and if its athletic and intelligent leading lady creates a new paradigm for animated features, so much the better.

In addition to being fast, funny, and unpretentious, Brave is a happy antidote to all the recent films in which women triumph by besting men at their own macho games...

Pixar is long overdue for a feature with a strong female character at its center. Now that she's arrived, it's clear that she deserves better.

A film that starts off big and promising but diminishes into a rather wee thing as it chugs along, with climactic drama that is both too conveniently wrapped up and hinges on magical elements that are somewhat confusing to boot.

Adding a female director to its creative boys' club, the studio has fashioned a resonant tribute to mother-daughter relationships that packs a level of poignancy on par with such beloved male-bonding classics as Finding Nemo.

Pixar's latest ultimately offers nothing more than a caricature of a well-worn conceit.

Pixar, a once-complex house of stories, has been downgraded to the happy meal alternative: "Brave" is a movie for six-year-olds.