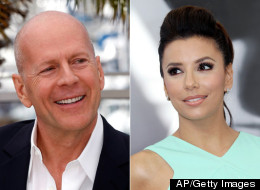 Celebrities don't generally make the best decisions when it comes to divorce. Some of them throw in the towel on their marriages too soon, while others badmouth their exes once it's over. And don't even get us started on those seemingly endless child custody battles they're bound to wage against their former spouses.
Still, every so often, a star comes along who seems so adept at dealing with the pressures of a public divorce that we can't help but sit up and take notice. It's these rare exes whom we call our divorce role models.
Click through the slideshow below for six celebs we think have demonstrated grace under fire, then tell us which celebrity you most respect for his or her post-divorce behavior.
Celebrity Divorce Role Models
Eva Longoria separated from Tony Parker in November 2010 amid reports that the NBA star had been caught "sexting" with a former teammate's wife. Unshaken by the tabloids' interest in the split, Longoria held her head high -- there was no trash-talking on Twitter or airing of divorce dirty laundry -- and answered questions about the end of her marriage with grace. When pressed about her divorce during an April 2012 interview with "Good Morning America," Longoria offered a forgiving perspective: "I always said I hold onto the love and not the loss. I think the press also wanted me to hate him and villainize him. And I don't. And I didn't."

It seems like all that yoga and small talk with the Dali Lama has paid off: Since finalizing his divorce from Katy Perry in February 2012, Russell Brand has revealed himself to be a poster child for amicable splits. Case in point? Just months after admitting to Ellen DeGeneres that he still "loves" his ex-wife as a "human being," the actor-comedian mused on a UK talk show about the importance of acquiring an "acceptance of things" in the aftermath of a split. If only all divorcés had his zen-like cool.

It's never easy to be in business with your ex after a breakup, but Jennifer Lopez has managed to make it work. Lopez announced her split from Marc Anthony in July 2011, but the duo continued to work together as judges and producers on the reality show "Q'Viva! The Chosen." Their unconventional work dynamic -- aptly deemed "very Sonny and Cher" by Anthony -- proves that it is possible to move forward with a shared business venture once a marriage is over.

Sandra Bullock is a shoo-in for the divorce role model title because of how bravely she embraced life as single mother after her 2010 divorce from Jesse James. Bullock and James had actually adopted Bullock's baby, Louis Bardo Bullock, in January 2010, while still married, but kept the news a secret until after the Academy Awards. When their marriage famously ended amid reports of James' multiple infidelities, Bullock decided to adopt Louis as a single mother and raise him on her own. "You wake up, you feed, you burp, you play, you do laundry," she told People magazine in April 2010. "I'm still in that stage where I'm just amazed with him and at life."

Olivia Wilde won us over with how honestly she's addressed the heartbreak that comes with divorce. Back in February, the actress admitted to Town & Country magazine that she lost faith and felt like a "failure" after her 2011 divorce from Tao Ruspoli. Several months later, Wilde told Amanda de Cadenet that separating after eight years of marriage was "the scariest thing" she had "ever done." And though she's currently engaged to Jason Sudeikis, we can't help but admire Wilde for the mere fact that her list of reported rebounds reads like a rundown of People magazine's "Sexiest Man Alive" list: Bradley Cooper, Ryan Reynolds, Justin Timberlake and Ryan Gosling? Well played, Wilde.

We've got Bruce Willis to thank for showing us how the whole blended family thing is done. When ex-wife Demi Moore -- mother to his three girls -- married Ashton Kutcher in 2005, Willis helped sustain a healthy stepfamily dynamic, attending the couple's wedding and accompanying the family to film premieres. Willis, who welcomed a baby girl with current wife, Emma Heming-Willis, in April, reportedly visited Moore when she was hospitalized for exhaustion in February 2011 following her much-publicized split from Kutcher. In fact, the action star was allegedly among those who encouraged Moore to get help.