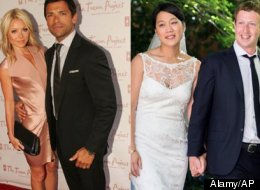 We expect celebrities to tie the knot with expensive, over-the-top affairs, so when they don't, we can't help but sit up and take notice.
As part of our Take Back Your Wedding initiative, a project we recently launched on Huffington Post Weddings to encourage couples to reclaim their vision for their nuptials, we're paying homage to the high-profile pairs who opted do it their way on their Big Days.
Click through the slideshow below to see our Take Back Your Wedding role models. Then take to the comments to nominate the celebs who have inspired you to make your wedding your own.
Celebs Who Married Their Way
Sixteen years ago, Ripa and Consuelo eloped in Las Vegas, spending just $279 total on their wedding. In this video, Ripa jokes that the low-cost affair didn't impact their relationship. "We are just as marginally happy as any other married couple," she said.

In April 2012, People magazine reported that former talk show host Ricki Lake and her boyfriend of nearly two years, Christian Evans, eloped. Lake told Rosie O'Donnell in January 2012 that she and Evans decided on a small ceremony when they started creating their "save the date" cards -- and she got heart palpitations thinking about all of the people she would feel obligated to invite. "I got a flash of me in my wedding dress and me shaking hands and meeting people for the first time. And I'm like, no. We both don't want to do that. We want to do something that's just for us," she said.

Despite his multi-millionaire status, Zuckerberg and his girlfriend of nine years opted for a low-key, secret backyard wedding that even their guests didn't expect. When friends and family arrived at the couple's home for what they thought was a graduation party for Chan, they realized that the couple was getting hitched. In addition to keeping their nuptials on the down-low, the couple also kept their Big Day details simple: Chan reportedly opted for an off-the-rack dress and the couple's reception food was catered by two of their favorite local restaurants, Mashable reported.

Before Faris married her "Whats Your Number" co-star, Pratt, in 2009, the actress told People magazine that her only Big Day must-have was "a lot of Margaritas." But, other than that, she just hoped that her celebration would be "simple." She explained: "I get to play and get my hair and make-up done in my professional life, so I don't really know if I want that fuss for my wedding.

In 2010, this couple eloped in Paris after a six-year engagement with just a few witnesses. OK Magazine reported that Fisher sent the following email to their friends to explain the couple's decision to keep the guest list short: "We did it -- we're married! It was the absolute best day of my life and in so many beautiful moments I missed you all so much. I thought of you as everything was happening, but Sacha and I wanted no fuss -- just us!"

Paltrow and her Coldplay frontman husband tied the knot in Santa Barbara, Calif. in 2003 -- just the two of them, People magazine reported. After the pair wed at the Santa Barbara Country Courthouse, without any family members or friends in attendance, they took off for their honeymoon in Cabo San Lucas, Mexico.