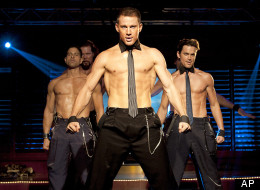 The "Magic Mike" reviews are beginning to show some skin.
"'Magic Mike' should ride into release ... with healthy word of mouth, if only judging by the enthusiasm level in the ladies room following a press screening last week," Movieline's Jen Yamato noted, while adding that some male viewers were "lukewarm" on the bare-naked proceedings.
Directed by Steven Soderbergh, "Magic Mike" is based on the early life experiences of star Channing Tatum, who was once a male stripper. The film details the highs and lows of the profession, with a cavalcade of hunky and manscaped actors (Matthew McConaughey, Alex Pettyfer, Joe Manganiello, Matt Bomer, Adam Rodriguez and more) along for the ride.
"['Magic Mike'] is arguably the raunchiest, funniest and most enjoyably nonjudgmental American movie about selling sex since 'Boogie Nights,' its obvious if considerably darker precursor," wrote David Rooney in his positive review for The Hollywood Reporter.
"Boogie Nights," the 1997 drama from director Paul Thomas Anderson, tracked the rise and fall of a male porn star (Mark Wahlberg) during the late '70s and early '80s, a time frame that "Magic Mike" apparently recalls. Tweeted Variety reporter Jeff Sneider:
@TheInSneider

Jeff Sneider
MAGIC MIKE plays like a 70s character drama that also delivers the fun goods female & gay auds are expecting while not alienating str8 aud.
According to Katie Walsh at Indiewire's blog The Playlist, "Magic Mike" belongs to Tatum -- something that may not come as a big surprise, considering it's partially based on his life.
"It would seem that Soderbergh and Tatum are an odd couple, but Soderbergh has achieved a rare director/star symbiotic relationship with Tatum in this film -- one where the director is able to fully distill the essence of his star and showcase his natural aura and charm in the very best light," she wrote. "The film is Tatum's and he fills the screen with his easy smile and relaxed flirtation."
"Magic Mike" is out in theaters now. Check out more reviews in the gallery below.
The few moments wherein Magic Mike calls American institutions into question are undercut and overshadowed by the film's dated insistence on the dream of legitimacy.

Arguably the raunchiest, funniest and most enjoyably nonjudgmental American movie about selling sex since Boogie Nights, its obvious if considerably darker precursor.

[Tatum is] just mesmerizing: confident, creative, acrobatic and, above all, seductive. `Cause that's the whole point.

If Magic Mike doesn't quite attain the hedonistic stature of twin cautionary tales Boogie Nights and the campy Showgirls, it can't be faulted for wanting to satisfy on a deeper level.

Tatum, Soderbergh and team appreciate the real reason audiences showed up, and the film provides just enough character and plot to validate the plentiful pecs and abundant buns that serve as its main attraction.

[It feels] curiously rudderless, its off-stage journey pale and enervated in contrast with the cheesy, ebullient dance numbers it makes room for.

A perfectly solid film but you don't walk away feeling like you've gotten the entire story about what it's like to be in this world.

"Magic Mike" has much in common with previous Soderbergh efforts in that it glides along at a terrifically entertaining pace.

Steven Soderbergh's funny, exhilarating, down-and-dirty celebration of a different breed of costumed superstud...

McConaughey goes for broke, rolling and writhing on the stage while women grab at him and throw cash. I would've handed over my credit card.
CORRECTION: An earlier edition of this post incorrectly stated that "Boogie Nights" came out in 1999.