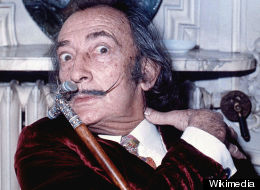 When one of Salvador Dali's paintings was stolen last week from the Venus Over Manhattan gallery in New York City, the report of the heist seemed straight out of a Pink Panther episode. The ridiculousness of both the burglar's black and white attire and the ease with which he traipsed out of a gallery with a $150,000 masterpiece are quirky details that belong in an animated cartoon show and not on Madison Avenue. But then again, Dali himself -- that mustachioed oddball who never strayed far from home without his pet ocelot -- seems right at home in the world of cartoon heroes and villains. And here's proof! We made a list of 15 fictional characters who are uncanny dopplegangers for the famous Surrealist painter. Check out the slideshow below and tell us what you think of Dali's numerous fictional look-a-likes!
15 Characters That Look Like Salvador Dali
We'll begin the formidable list of Dali look-a-likes with Sesame Street's own Surrealist painter resident -- Salvador Dada. Need we say more?

Snidely Whiplash was the arch-villain of Dudley Do-Right, and like Dali, he donned a killer cape and twirled his mustache oh-so-fabulously.

Dick Dasterdly, the recurring villain of the Hanna-Barbera franchise, not only wore a mustache proudly, but he also was frequently seen with an animal counterpart -- Muttley the dog. Dali and his ocelot would have been proud. We can just imagine the Surrealist great exclaiming, "Triple drat!"

The Bowler Hat Guy from 'Meet the Robinsons' is probably the creepiest Dali doppelganger in this slideshow. Dali, why have you inspired so many villains?

Luigi from the Mario Brothers does bare some resemblance to Dali, but Waluigi could be mistaken for the painter's twin. This Wario-companion functioned primarily to cause mischief, a character trait we're certain Dali admired.

Ok, so we admit we might have made a small adjustment to everyone's favorite Simpsons character. But the resemblance is uncanny, no?

If Dali had not paved the way for unconventional facial hair, who knows if Captain Jack Sparrow would ever have come into existence?

The Peculiar Purple Pieman of Porcupine Peak is definitely channeling some Dali vibes, with his thin purple mustache and impeccable tongue-rolling.

Agatha Christie must have caught wind of Salvador Dali's increasingly ridiculous mustaches from across the Channel, because Hercule Poirot's perfectly waxed 'stache is just too good.

Dali would surely have approved of Big Gay Al's bold fashion choices and effortlessly coifed mustache. Even the comb over is so Salvador.

If you ever wondered what Dali would look like as a super-human action star, look no further than Sinestro from the Green Lantern. This alien supervillain is so Dali, it's frightening.

Like Dick Dastardly, Jaffar meets two Dali requirements -- nicely manicured facial hair and possession of a non-human sidekick.

Puffy sleeves and a pointy mustache? We dare you to claim Captain Hook (at least the Disney version of J.M. Barrie's creation) isn't a Dali knock off.

So he's a little tubbier than Dali, but his theatrical circus-garb and ever-twirled eyebrows and mustache scream Salvador.

Boris Bademov, Natasha Fatale's short comrade, has it all - a mustache, a delightful Russian female counterpart, a unique sense of style. He is certainly an evil, pint-sized version of Dali.