Vintage Celebrity Endorsements: From Bette Davis To OJ Simpson (PHOTOS)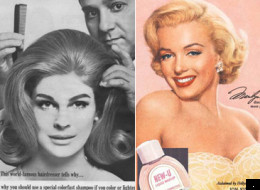 Since pin curls and beehives were cool, celebrities have lent their faces to a variety of products. From shampoo and cosmetics to hard liquor and chocolate, when a brand can stamp a famous face on their goods, they do.
Western Union nabbed the illustrious Alfred Hitchcock and funny girl Lucille Ball as their celebrity endorsers; both Woody Allen and Eva Gabor lent their mugs to Smirnoff; and Charlton Heston and Tony Curtis gave their stamp of approval to Van Heusen's wrinkle-free shirts.
Forget the Kardashians; check out the real mothers and fathers of celebrity brand endorsement:
Vintage Celebrity Endorsements
Bette Davis: Lustre-Creme shampoo (1951)

Alfred Hitchcock: Western Union (1959)

Woody Allen: Smirnoff (1966)

Eva Gabor: Smirnoff (1959)

Humphrey Bogart: Whitman's Chocolates (1954)

Charlton Heston: Van Heusen (1953)

Tony Curtis: Van Heusen (1955)

Andy Warhol: Pioneer

Audrey Hepburn: Givenchy

Groucho Marx: Frosted Flakes

Whitney Houston: Max Factor (1980s)

Candice Bergen: Clairol (1965)

Ron Howard: Milk

Marilyn Monroe: Jon Joy Cosmetics

Lucille Ball: Western Union (1957)

OJ Simpson: Dingo (1979)

Joan Collins: Lustre-Creme Shampoo (1950s)

Muhammad Ali: Rockport (1993)

Betty White: Science Diet (1988)