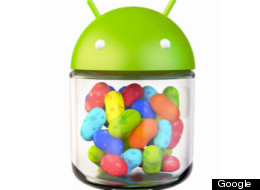 How sweet it is! Google has given developers a taste of Android 4.1 (codenamed "Jelly Bean"), the latest update to the company's OS for mobile devices.
Jelly Bean will come preloaded on the Nexus 7 tablet (which Google debuted moments after unwrapping Jelly Bean), which is available for purchase online now and will ship in July. The company also said that Jelly Bean will roll out next month to the Samsung Galaxy Nexus and Nexus S smartphones, as well as to the Motorola Xoom tablet. Other upgradable devices are likely to be announced later. (Judging by what an inconsistent mess the updates to Android 4.0 have been, we can only hope for a more orderly and efficient rollout.)
Google promises that Jelly Bean will offer users a smoother, faster, more responsive experience than Ice Cream Sandwich, for which Jelly Bean is the first major update. Browse our gallery for a sampling of the 5 new Jelly Bean features we can't wait to try for ourselves. Then, check out the rest of the highlights from Google I/O 2012, including the Nexus 7 tablet, the Nexus Q streaming receiver, an utterly insane Google "glasses" demo and much more.
5 Sweet Jelly Bean Features
Jelly Bean's Google Now feature takes location tracking to the next level. This product syncs your calendar, commute route and location data to give you appointment reminders, notify you of real-time updates to your transit route based on traffic, inform you of train and plane arrivals and delays, help you find nearby restaurants at dinnertime and more. Check out the video above to see how this super-smart feature works.

Siri, you've got some competition. The Android 4.1 system will come with a digital assistant that accepts voice input from the user and can respond using spoken words, text, search results and more. When connected to the internet, this Voice Search feature will pull data from the Google Knowledge Graph to better answer users' questions with relevant information from Google Search. When there's no Internet connection, the voice assistant will be able to transcribe spoken commands into text.

With expandable notifications, users will be able to see even more information -- photos, snippets of text -- from apps running in the background. Users can expand or contract these robust notifications simply by pinching. For example, if your device receives an incoming call, you can pull down the drop-down menu and open that notification and see who's calling; you can also choose to answer or ignore the call -- right from the notification. If you miss a call, your notification will let you return the call or let you text the caller back.

Jelly Bean now offers better support for Hebrew and Arabic, and Google says that 18 more languages are on their way. There is even support offered for blind users to input (and receive) Braille data via USB or Bluetooth-connected devices. There will also be a "Gesture Mode" designed to help blind users get the most out of Jelly Bean.

Android Beam, an Ice Cream Sandwich feature, is getting some improvements in Jelly Bean. From Google: With Android Beam on Jelly Bean you can now easily share your photos and videos with just a simple tap, in addition to sharing contacts, web pages, YouTube videos, directions, and apps. Just touch two NFC-enabled Android devices back-to-back, then tap to beam whatever's on the screen to your friend. Instantly pair your Android phone or tablet to Bluetooth devices like headsets or speakers that support the Simple Secure Pairing standard by just tapping them together - no more syncing or searching required.