Sharon Stone has been a pretty legitimate sex symbol since her "Basic Instinct" days, so we've gotten used to seeing the star looking consistently glam for a good 20 years now.
In a very uncharacteristic turn of events, the 54-year-old look slightly less than perfect while lunching in Los Angeles yesterday. Sharon wore a simple black tee shirt and gold earrings, but it looks as if she decided to forego all makeup.
We don't expect celebrities to sport a full face of cosmetics every day, but we hardly recognized the barefaced actress. To be fair, Sharon does still have a killer body (and a 27-year-old model boyfriend to go with it). Her new boytoy was nowhere in sight, so maybe Sharon was just taking the day off?
Check out the photo below and tell us what you think of Sharon Stone's au naturel look.
PHOTO: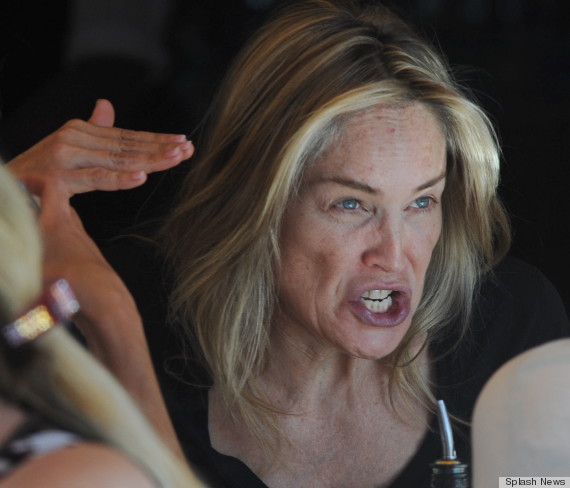 More celebrities without makeup!
Loading Slideshow
Demi Lovato

Britney Spears

Krysten Ritter

Claire Danes

Kate Moss

Rachel Hunter

Katy Perry

Jessica Stam

Selma Blair

Rita Ora

Fergie

Tilda Swinton

Paris Hilton

Rosie Huntington-Whiteley

June 2011

Mila Kunis

April 2012

Brooke Shields

October 2012

Brooke Shields

August 2011

Jessica Simpson

Cameron Diaz

August 2011

Jessy Schram

Britney Spears

September 2011

Sarah Jessica Parker

October 2011

Ellen Pompeo

July 2011

Ellen Pompeo

January 2012

Kate Hudson

August 2011

Ciara

August 2011

Minka Kelly

April 2011

Kate Moss

September 2011

Kate Moss

September 2012

Kate Moss

September 2012

Zoe Saldana

September 2011

Liv Tyler

September 2011

Janice Dickenson

Liv Tyler

November 2011

Busy Phillips

Halle Berry

September 2011

Jennifer Love Hewitt

October 2011

Jennifer Love Hewitt

April 2012

Elle Fanning

October 2011

LeAnn Rimes

LeAnn Rimes

October 2012

Salma Hayek

October 2011

Uma Thurman

October 2011

Marion Cotillard

November 2011

Hilary Duff

October 2011

Maria Bello

November 2011

Lala Vazquez

November 2011

Kim Kardashian

November 2011

Snooki

October 2012

Goldie Hawn

October 2012

Amber Valletta

March 2013
Want more? Be sure to check out HuffPost Style on Twitter, Facebook, Tumblr and Pinterest.