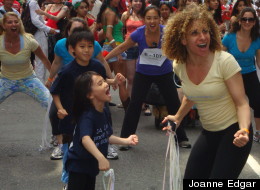 One of the reasons I started my website is that I wanted a place for women to come together and dream. Women should know that they don't have to hang on to an old dream that has stopped nurturing them -- that there is always time to start a new dream. This week's story is about a woman who walked away from ballet when she was told she had the wrong body type, and returned in her 40s to prove that you don't need to be tall and thin to be a dancer. -– Marlo, MarloThomas.com
By Lori Weiss
At five years old, Kerry Ann King became the accidental ballerina. Her mother had enrolled her in what she thought was a neighborhood dance class after reading that ballet -- which involves large body movements -- might help with a form of dyslexia Kerry Ann was struggling with. But these weren't just any ballet classes -- unknowingly, Kerry Ann's mom had brought her daughter to one of the most prestigious programs in the world -- The Joffrey Ballet in New York City.
"I fell in love with it immediately," Kerry Ann remembered, "and the teachers fell in love with me. You know when you see a little kid and they don't want to do anything other than play the piano? That was the level of passion I had for it."
Kerry Ann moved quickly through the ranks. She was even allowed the unheard of -- to take classes with the actual ballet company.
"But I was never put on stage," she explained. "I was constantly encouraged, but I wasn't getting the feedback I wanted. I wanted to know if I was going to make it."
So finally at the age of 14, Kerry Ann got up the nerve to ask a trusted teacher. "She said, 'If you have breast reduction surgery and lose another seven pounds, it might improve your chances, but even then there are no guarantees.' I would have had to dance five hours a day and not eat at all. I would have had to become anorexic. Even at 14, I knew better than to torture my body in that way. And that's when I walked away.
"It was my first break-up. It was way worse than if I'd had a boyfriend who was mean to me at that age. It was the only thing I was really passionate about."
And as many teenage girls do, when they break up with their first love, Kerry Ann tested her new freedom. She took up tennis -- a sport she wasn't allowed to participate in while she was dancing, for fear that she could be injured. And then she was. The first time she stepped out onto a tennis court, she blew out her knee.
"I was forced to stop exercising," Kerry Ann said sadly, "which just set me up for what was to come. There aren't a lot of naturally thin people in my family and I'd been dieting from the time I was ten. It wasn't unusual for me to dance all day with only a small frozen yogurt, a Tab and a banana in my system, which left my metabolism incredibly slow. So there I was, injured, and at 5'2" my weight ballooned up to 150 pounds."
It was the end of Kerry Ann's athletic pursuits. Or at least she thought it was. She moved on with her life and studied psychology, married a man she'd met in her master's program and happily built a family. What she didn't know was that her last pregnancy, which brought two beautiful twin boys into her life, would also bring her back to where she belonged -- to the world of dance.
Story continues below slideshow.
It Ain't Over: Kerry Ann King
Kerry Ann may have taken a break from dancing, but she never lost her passion. Today, she participates in a wide range of dance-related activities, from teaching fitness classes to organizing flash mobs. She even choreographed a dance number for the Dynamic Motion Company at the prestigious Alvin Ailey Dance Studio, which she is seen rehearsing here.

Kerry Ann discovered Nia, a free form, low impact dance class, during her journey to get back into shape. Nia helped Kerry Ann fall back in love with dancing and led her to become a certified fitness instructor. Here, her son Alexander participates in a Nia class that she is teaching.

Once Kerry Ann got back into dancing, she couldn't be stopped. Here, she is pictured alongside Chelsea Piers Dance Benefit participants who raised money for New York City to buy a Christmas tree. Kerry Ann (pictured in pink leggings) loves dancing with people of all ages and was the oldest person in this group.

Kerry Ann began dancing at The Joffrey Ballet when she was only five years old. Her teachers noticed her talent and passion and she was eventually allowed to take classes with the actual ballet company, which was a huge privilege.

Kerry Ann began dieting when she was only 10 years old. She would often dance all day with only a frozen yogurt, a Tab and a banana in her system.

Though she was very thin at age 14, Kerry Ann's dance teacher told her she wouldn't "make it" as a ballerina unless she lost more weight and had breast reduction surgery. Here, she performs at her last recital before quitting ballet.

Kerry Ann had a hard time adjusting to her new-found freedom after quitting ballet. In high school, her best friend Tina Huntstein (pictured here) helped her move on.

Assuming her dancing days were over, Kerry Ann pursued a degree in psychology. She wound up meeting her husband in her master's degree program and they began to build a family.

Kerry Ann loved being a mother - but after having kids, she thought that the weight she gained would prevent her from ever dancing again. Today, Kerry Ann teaches her students that you can be beautiful - and a great dancer - even if you're not 25 or rail thin. Here, she is pictured with daughters Lillie and Emma.

Kerry Ann was put on bed rest when she was pregnant with her twin boys and wound up gaining 90 pounds. After giving birth, she decided to get back into shape by taking cardio and kickboxing classes.

Kerry Ann had no idea that her last pregnancy with twin boys Alexander and Nathaniel would lead her back into her former life as a dancer. Here, she rests with the 3-month-old babies before her reentry into the world of dance.

Kerry Ann has been able to meet a host of new people since she has gotten back into dancing and many have offered her great opportunities! Here, she dances in an improvisational jazz piece alongside the Lower East Side Jazz ensemble - a senior student from her fitness class invited her to participate.

Kerry Ann organized Nia's participation in the New York City Dance Parade in 2011. Here, she leads the group as they dance down Broadway.

Not only has Kerry Ann gotten into excellent shape, she now helps others do the same! Here she poses on The Highline in New York City to promote her fitness business, called Ampd.
"While I was pregnant with my sons, I ended up on bed rest for five months," Kerry Ann said. "I spent that time eating every flavor of Ben and Jerry's ice cream I could find and watching every episode of "West Wing." I put on 90 pounds. And while after they were born, I was down to 160, I felt like I had to do something about my weight. So I joined a gym and tried kickboxing and cardio classes. But I avoided dance classes. I watched them a little, but they looked way too challenging."
But all that changed when Kerry Ann discovered a dance class designed to be softer on the body, called Nia. It was free form and low impact and by the time she finished the first session, she had fallen back in love.
"As I got stronger and more confident, I decided to go to the Broadway Dance Center and take a real ballet class. By that point, I'd lost a lot of weight. I was in really good shape and it was kind of like going back to see an ex when you're looking really good. Like yeah, buddy -- look at me now."
So she took her place -- right at the very front barre -- which for most people might be intimidating, but in the world of ballet, those spots are reserved for the most skilled dancers and clearly, Kerry Ann felt up to the challenge.
"Class started and the teacher would not get off my back," Kerry Ann recalled. "It was exactly what I'd experienced as a child. In ballet, brutal as it sounds, if you're not being criticized in class, it means you're not worth paying attention to. But at one point, he gave me direction that I couldn't do because of my knee surgery and I did something that no one ever does in a ballet class. I talked back. I said this knee is reconstructed -- that's as far as it bends. If I had punched him in the face, people would have been less shocked.
"I wanted to say to him, I am 41 f*cking years old. Look at my face, look at my grey hair! I'm not auditioning for anyone. I'm here for the same reason the 70-year-old guy next to me is. I want to take a ballet class. But I realized in that moment that I was still a dancer. I was 41 and even if I wasn't tall and thin, I was a dancer."
And once Kerry Ann accepted that, there was no stopping her. She became a certified fitness instructor and began teaching classes that range from conditioning to kickboxing and of course, Nia. On any given day, she can be found teaching a group of spunky seniors, who are rocking out to the latest heavy metal music. Or choreographing a flash mob of parents and teachers at her children's school, where the principal dances through the crowd throwing fairy dust. She even shows up in studios just like the one where she first trained. Most recently, she prepared a group of dancers to perform at the famed Alvin Ailey Dance Studio.
"We put up our own obstacles. We tell ourselves we're not young anymore. We're not fit enough. It's not true. It's all propaganda. You don't stop being beautiful or strong or sexy just because you're not 25 anymore or because you're not a certain shape or size.
"I want to share the sense of delight people can have in moving and dancing," Kerry Ann said, "no matter who they are. To me, the mission is no longer how high you can kick. It's how high you get from dancing."
For more information on Kerry Ann King's dance classes, you can follow her on Facebook at https://www.facebook.com/AmpdAlwaysMoveDancePlay.
Add Marlo On Facebook:
Follow Marlo on Twitter:

Weekly Newsletter

Sign up to receive my email newsletter each week - It will keep you up-to-date on upcoming articles, Mondays with Marlo guests, videos, and more!

Sign up here