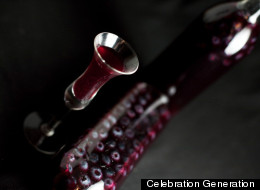 Strawberries, basil, raspberries and peaches -- the summer is a great time for fresh produce and herbs. And while we love having these warm-weather foods to cook with, bake up or just eat as they are, there's another great use for these summertime treasures: infused liquors. Infused liquors are easy to make (infinitely better than any store-bought flavored liquor), they take just a couple of days to steep and they will vastly improve your cocktails. Check out the recipes below.
Get the Mixed Citrus Liqueur recipe by Food Plus Words Use whichever citrus fruit looks best to make this liqueur. Just be sure to use a mixture rather than just one type of citrus because it makes for a more interesting result.

Get the Blueberry Liqueur recipe from Celebration Generation With the bounty of fresh blueberries available in the summertime, why wouldn't you make liqueur with them?

Get the Strawberry Infused Vodka recipe by Shutterbean In just three days you too can enjoy homemade strawberry vodka. It's so good you'll want to drink it straight, but it also works great in cocktails.

Get the Basil Infused Vodka recipe by Baked In Herbal cocktails are very popular these days, and with good reason too. They add a new dimension to fruit cocktails.

Get the Raspberry Vodka recipe from Expat Gourmet These little berries offer a lot of flavor, and color, to vodka. And this liqueur makes a great end of the summer gift, though you'll definitely want to make enough for yourself.

Get the Rhubarb Liqueur recipe by Rouge & Whimsy Rhubarb comes and goes quicker than any of our beloved warm-weather fruit. But you can savor that flavor in your cocktails with rhubarb liqueur.

Get the Berry Infused Vodka recipe by Vivid Please If you can't decide between strawberries, blueberries of raspberries, don't. Use all three to make this great infused vodka.

Get the Peach Liqueur recipe by Life Currents Peach is one of those fruits that just screams summer. And this recipe calls for both yellow and white peaches.

Get the Lime, Ginger, Basil Vodka recipe by Love It, Live It, Blog It One you've got this infused-vodka made, you've pretty much got your cocktail ready to go. You can certainly add more flavors, but just a dash of club soda would do the trick.