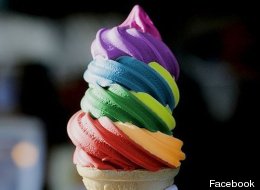 Whether you like it to crunch with your favorite cereal, on a brioche, or dusted with wasabi powder, there's a delectable ice cream treat to suit your fancy. Herewith, our guide the New York's best ice cream shops.
Best Ice Cream In New York
Cookie dough is the name of the game at Je & Jo, as in there is some kind of delicious cookie dough in every single handmade flavor. With options like fresh mint with lemon lavender shortbread cookie dough and coffee ice cream with spicy chocolate cookie dough, you can't go wrong.

What is Coolhaus? An ice cream sandwich deconstructed into a cookie roof and floor with ice cream walls. In other words, it's amazing. Especially the potato chip and butterscotch cookie with molten chocolate cake ice cream. Mmmmmmmm.

A Chinatown landmark, CICF takes traditional ice cream and puts a Chinese twist on it -- in this case red bean, black sesame, almond cookie and zen butter to name a few.

A master gelato chef from Italy + a Florentine process perfected during the mid-16th century + a gelato lab engineered in Italy + the highest quality imported ingredients = Love Gelato

Local and artisanal but without taking itself too seriously, Ample Hills Creamery churns out some of Brooklyn's fnest ice cream. Stop by the Prospect heights shop for a scoop of Ooey Gooey Butter Cake or a Salted Crack Caramel cone. Delish!

These guys take their ingredients very very seriously, and the result is magic in your mouth. Van Leeuwen Ice Cream is made solely of fresh milk and cream, cane sugar, egg yolks and "the finest flavors from small producers locally and around the world" (think pistachios from Mount Etna in Sicily, Piedmont hazelnuts, hand crushed quills of ceylon cinnamon from Sri Lanka)

It's the toppings that differentiate Big Gay Ice Cream (well that and the name). His schtick is simple: traditional soft serve ice cream with totally-out-there, unexpected toppings and kitschy names. We recommend the Bea Arthur (vanilla with dulce de leche and crushed 'nilla wafers) or the Mermaid (vanilla with key lime curd, crushed graham crackers, whipped cream).

With over 200 flavors to choose from, Il Laboratorio del Gelato is truly a lab. To ensure the highest quality ice cream and sorbet, each is made in small batches of the finest ingredients, sourced from all over the world.

If you're over 30, The Farm (as it's known by locals) will transport you back to childhood, but the goodies will meet your grown-up standards. Case in point: The Almond Joyful Sundae -- small batch coconut ice cream topped with hot fudge, Farmacy's own coconut almond crumbles and fresh whipped cream.

High quality! Artisanal! All-natural! They may sound like fluffy buzzwords, but one lick of L'Arte del Gelato's creamy stuff will have you a believer that it truly makes a difference.

Blue Marble serves up award-winning ice cream with a conscience. With shops in Prospect Heights, Boerum Hill and Rwanda (for real!), they keep the focus on local, simple ingredients, always avoiding sugary add-ins, preservatives, corn syrup, and artificial flavors or coloring.

The gourmet version of a DQ Blizzard, Shake Shack's Concretes -- frozen custard with your mix-ins of choice -- are worth every last calorie (and then some).