A Leonardo Da Vinci self-portrait is in critical condition, and there might not be anything experts can do to fix it.
Restoration experts recently conducted tests on the red chalk drawing depicting the bearded genius in his sixties, which was made in the early 1500s. The self-portrait developed red blotches, funghi and spots over its delicately rendered face; most believe the damage occurred while the work was accidentally exposed to sunlight while being framed for an exhibition in 1929. The diagnosis: "Foxing," an art restoration term for marks that shouldn't be there. The foxing may have developed from the oxidation of Da Vinci's pigment or from fungus developing in the paper.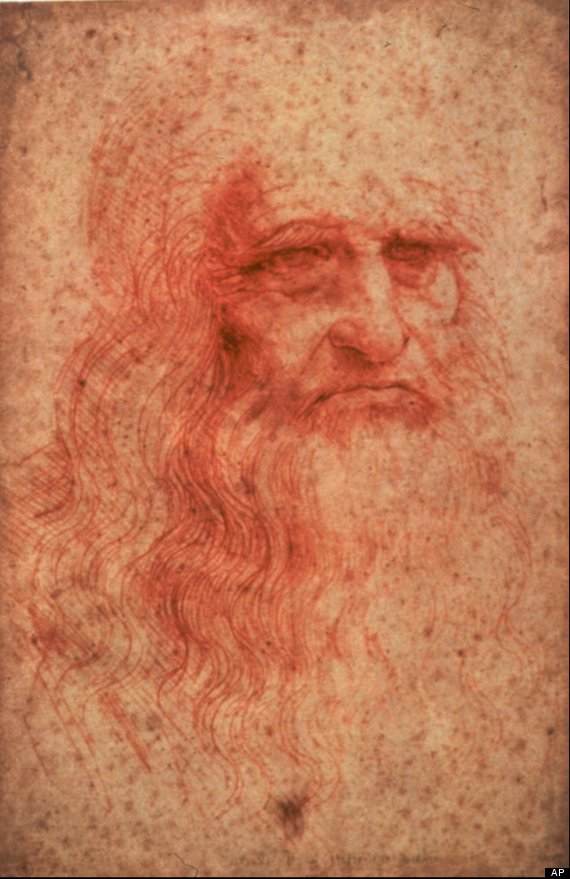 This undated handout photo of a self-portrait of da Vinci (circa 1516) opened at the Museum of Science in Boston in 1997. The exhibit, called "Leonardo da Vinci: Scientist, Inventor, Artist", was the only U.S. stop on its international tour (AP Photo/Leonardo da Vinci).

Yet the most devastating aspect of the prognosis is that the small work, which measures a mere 13.2 by 8.5 inches, is in such bad condition that any attempt to save it could very possible destroy it. Thus scientists and restorators are left with an epic dilemma of whether or not to intervene that seems like it came out of an episode of ER.
Restorators decided to exercise caution before taking action. "Because this is a masterpiece, prudence has prevailed. It's scary to deal with a work of art of this magnitude and uniqueness," Maria Cristina Misiti, head of Italy's Central Institute for Restoration and Conservation of Archival and Book Patrimony, explained in the Chicago Tribune. Experts are extremely hesitant to attempt to restore the piece in case it could be ruined forever, so they will keep the image out of sight in order to preserve what remains.
Here is a slideshow of some of Da Vinci's most beloved (and well-preserved) masterpieces:

Loading Slideshow
1. Leonardo Da Vinci was a <a href="http://books.google.com/books/about/The_Heretic_s_Feast.html?id=rIjZo-cvifAC" target="_blank">committed vegetarian</a> at a time when this choice was highly unusual. A <a href="http://www.ncbi.nlm.nih.gov/pubmed/20375518" target="_blank"> 2010 study suggests that his nonconformist culinary decisions possibly contributed to his stroke</a>. Image: Last Supper 1495-1498

2. Da Vinci was the first person to explain <a href="http://www.uu.edu/dept/physics/scienceguys/2000Oct.cfm" target="_blank">why the sky is blue.</a> (Light scattering, duh.) Image: Lady with an Ermine oil on panel

3. Leonardo Da Vinci was <a href="http://www.guardian.co.uk/education/2010/jan/26/ambidextrous-children-schools" target="_blank">ambidextrous</a>, meaning he could write forward with one hand and backward with the other. Image: The Virgin and Child with St. Anne from 1500 until 1513

4. Leonardo Da Vinci was also <a href="http://www.telegraph.co.uk/science/science-news/8128233/Dyslexia-the-secret-of-Da-Vinci-and-Picassos-success.html" target="_blank">dyslexic</a>, and had trouble reading, writing and spelling. (Luckily his drawing skills weren't too shabby.) Image: Vitruvian Man

5. Mona Lisa is mostly happy, a little bit disgusted. <a href="http://discovermagazine.com/2006/may/10-da-vinci#.UWv0PyvwLKw" target="_blank">Discovery Magazine</a> reported on research on the painted lady's notoriously coy expression. Apparently "researchers at the University of Amsterdam and the University of Illinois used face-recognition software to determine that the Mona Lisa is 83% happy, 9% disgusted, 6% fearful, and 2% angry." Image: Mona Lisa between 1503 and 1505

6. The devoted artist took his interest in the mechanics of the human body to a new level by dissecting human cadavers to best understand how the human body operates. Image: Studies of Embryos

7. Leonardo Da Vinci, an accomplished lyre player, was first presented at the Milanese court as a musician, not an artist. Image: Study of horses circa 1490 Silverpoint on prepared paper

8. Ever the animal rights enthusiast, Leonardo Da Vinci <a href="http://www.guardian.co.uk/artanddesign/jonathanjonesblog/2011/nov/30/leonardo-da-vinci-animal-rights-activist" target="_blank">reportedly enjoyed purchasing caged birds so that he could set them free</a>. Image: The Virgin of the Rocks

9. Leonardo Da Vinci and Michelangelo were <a href="http://www.guardian.co.uk/culture/2002/oct/22/artsfeatures.highereducation" target="_blank">reportedly frenemies</a>. In <a href="http://www.guardian.co.uk/books/2010/apr/25/lost-battles-jones-michelangelo-davinci" target="_blank">"The Lost Battles: Leonardo, Michelangelo and the Artistic Duel That Defined the Renaissance,"</a> Jonathan Jones writes that two rival artists would often cause serious reality show level drama by insulting each other in public. Image: La Scapigliata

10. As if Leonardo Da Vinci hadn't accomplished enough in his lifetime, the multitalented artist and intellectual is now living the dream as an action hero in the new Starz drama "<a href="http://www.huffingtonpost.com/2013/02/11/da-vinci-demons-television-show-poster-art-trailer_n_2662059.html" target="_blank">Da Vinci's Demons.</a>"
Also on HuffPost: