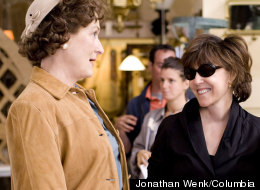 Nora Ephron managed to sum up the relationship between human emotion and food in one tidy paragraph:
Nothing like mashed potatoes when you're feeling blue. Nothing like getting into bed with a bowl of hot mashed potatoes already loaded with butter, and methodically adding a thin cold slice of butter to every forkful. The problem with mashed potatoes, though, is that they require almost as much hard work as crisp potatoes, and when you're feeling blue the last thing you feel like is hard work. Of course, you can always get someone to make the mashed potatoes for you, but let's face it: the reason you're blue is that there isn't anyone to make them for you. As a result, most people do not have nearly enough mashed potatoes in their lives, and when they do, it's almost always at the wrong time.
Ephron wrote those words in the 1986 novel Heartburn, the story of a food writer who suffers through a marriage to a philandering reporter. The thing is, the story was based on Ephron's real-life marriage to journalist Carl Bernstein (yes, the one who reported on Watergate), so Ephron knew a thing or two about heartache.
Another area of expertise for Ephron? Food -- and we mean big time. Though her passion for cooking was made most evident in Julie & Julia, Ephron's love affair with eating began long before then, and has since been well-documented. When asked what her signature dish is, she'll tell you: "If there is a Nora Ephron signature anything it is that there's slightly too much food." She's outspoken about the finer details, too -- even butter. "… Yesterday I just had toasted sourdough bread with very good salted butter. I'm religious about salted butter. I don't understand how it happened that everyone thought we should all have sweet butter. I blame the French." She has also cooked with Martha Stewart, who will attest to the fact that Ephron wields some serious skills in the kitchen.
Lucky for us, Ephron has left behind some of her best recipes to fill the hungry void that's left in our stomachs. We've collected 12 of her favorites -- many from her novel, some favorites from Julia Child, and a couple from her personal collection. We think you should dive into a buttery bowl of her mashed potatoes the next time you're feeling blue.
What's your favorite food moment from Ephron's work? Share it with us in the comments below.
11/25/2008 "This year, in keeping with the tenor of the times, I am making a recipe I got from the Internet, or, to be more exact, from the monthly email newsletter I get from the great Seattle chef Tom Douglas. It's for dip. I have been looking for a good dip recipe my entire life, and this is it -- Tom Douglas' mother's crab dip. It's not just easy and delicious, but it's loaded with crab, so it gives you the illusion that because it contains protein, it's good for you." Get the recipe for Nora Ephron's Favorite Crab Dip

Rachel (played by Meryl Streep) throws a key lime pie in her husband's face in one infamous scene from Heartburn. Get the recipe for Nora Ephron's Key Lime Pie from A Common Sea

Get the recipe for Nora Ephron's Chasens Chili from Epicurious Photo from yurilong, Flickr.

"That's the sort of food she liked to serve, something that looked like plain old baked beans and then turned out to have pears up its sleeve." Take 6 cups defrosted lima beans, 6 pears, peeled and cut into slices, 1/2 cup molasses, 1/2 cup chicken stock, 1/2 onion chopped, put into a heavy casserole, cover and bake 12 hours at 200 degrees. Recipe courtesy of Greasy

Get the recipe for Nora Ephron's Mashed Potatoes from Bay Area Bites

One of Ephron's favorite recipes from Julia Child's Mastering The Art Of French Cooking ... Get the recipe for Poulet au Porto from NPR Photo from yourhomebasedmom, Flickr.

Get the recipe for Nora Ephron's Sour Cream Peach Pie from Food.com

Mix 2 tablespoons Grey Poupon mustard with 2 tablespoons good red wine vinegar. Then, whisking constantly with a fork, slowly add 6 tablespoons olive oil, until the vinaigrette is thick and creamy; this makes a very strong vinaigrette that's perfect for salad greens like arugula and watercress and endive. Recipe courtesy of Greasy

Get the recipe for Nora Ephron's Brisket from Boston Bakes For Breast Cancer

One of Ephron's favorite recipes from Julia Child's Mastering The Art Of French Cooking Get the recipe for Navarin Printanier from NPR Photo from FinasZ, Flickr.

Get the recipe for Nora Ephron's Bacon Hash from Food.com Photo from Edsel L, Flickr.

Get the recipe for Nora Ephron's Cheesecake from Food.com Photo from MShades, Flickr.