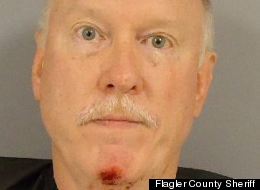 Cocaine is a hell of a drug.
And it caused hell for Peter Bauer who, armed with a .38-caliber handgun, allegedly spent his Tuesday morning running from and shooting at Croatians. Imaginary Croatians.
The Orlando Sentinel reported that the 61-year-old man was arrested while hiding between two cars in Palm Coast, Fl., and holding a pistol.
Bauer told Flagler County sheriff's deputies that he snorted coke late Monday night before Croatians broke into his home. He fled to a neighbor's house, where occupants called police to report a crazed man banging at their sliding glass doors, according to the St. Augustine Record.
"The residents positively identified Bauer as the man who spent several minutes at their back door before running away," deputies said in a report obtained by the paper.
Bauer also reportedly copped to firing four shots at the non-existent Eastern Europeans, and even got cut at some point while running from them.
He didn't hurt anyone, but he was arrested after authorities claimed to find cocaine and shell casings in his home. He was charged with attempted burglary, according to the Sentinel.
DRUGS HIDDEN IN THE DARNDEST PLACES:
Drugs Hidden In The Darndest Places
One New York men allegedly tried to pull a fast one by hiding drugs inside a stuffed lion wearing a D.A.R.E. (Drug Abuse Resistance Education) t-shirt. Click here to read the whole story.

This dad allegedly tried to hide bags of heroin in his baby's diaper right in front of cops. Click here to read the whole story.

This Oklahoma woman was sentenced to 25 years after smuggling not only meth in her butt, but also a gun in her vagina. Read the whole story here.

This Florida woman was allegedly caught with a hypodermic needle stowed away in her anus. Read the whole story here.

Priscilla Pena and Michelle Blassingale were arrested at JFK Airport after arriving from the Dominican Republic in late January. Drug-sniffing dogs allegedly detected something. Authorities said Pena had seven kilos of cocaine in silver plastic, wrapped around her butt like a disposable diaper.

Rasoul Speight, 32, is facing a narcotics charge after New Jersey cops yesterday discovered a whopping 100 bags of heroin hidden in his anus.

Bellamy allegedly hid 36 vials of crack cocaine in her vagina to stay out of police custody. But officers noticed that the Philadelphia woman was walking funny, and she admitted to her hiding place. "The woman says, 'I have crack up in my vagina,' and she pushed out 36 vials of crack cocaine that were in a bag," Upper Darby Police Superintendent Michael Chitwood said. "Thank God the lady didn't have a snake or a crocodile, or we'd really have been in trouble."

42 packages of marijuana were found stashed inside boxes of carrots on the back of a truck trying to pass through the Otay Mesa cargo facility.

Jose Santiago is accused of hiding 2.5 grams of crack cocaine and 2.8 grams of marijuana inside his prosthetic leg.

Kiana Howell (L) and Makeeba Graham (R) are accused of attempting to smuggle cocaine from Guyana into the U.S. in their hair.

Harvey is accused of stuffing clothes shoes and a watch worth a combined $450 in his pants. He also allegedly had several pills stuffed in his pants that he claimed were not his.

Carlos Valenzuela, 42, was pulled over by El Paso authorities for a traffic violation, but the routine stop led to the discovery of two large bricks of cocaine inside an XBox 360.

A traffic violation by Ray Woods, 23, caught the attention of Pennsylvania police, who then discovered Woods was packing something quite large: 89 bags of heroin and cocaine tied to his penis.

Cindy Davidson of Salt Lake City found quite a surprise when she opened a box of tampons she purchased: cocaine wrapped in cellophane.

Florida police not afraid to get their hands dirty discovered crack in the butt of 28-year-old Ramon Blair.

An Idaho mechanic found 1.16 pounds of cocaine -- that's more than $40,000 worth on the street -- inside the engine compartment of a car belonging to an 82-year-old woman.