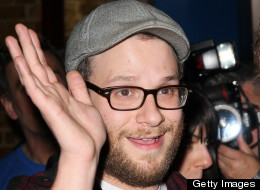 Seth Rogen's laugh is one of the most unmistakable in Hollywood. Rogen's low decible chuckle sounds like a "Ha ha ha" or "HA HA HA" depending on his level of excitement.
"I went to a taping of a friend's sitcom once, and they had to edit my laughter out of it," Rogen told MetaCafe during an interview for 2011's "The Green Hornet." "Literally. For air. It wasn't even that funny of a sitcom."
Unfortunately for Rogen laugh aficionados, "Take This Waltz" -- the star's latest feature -- doesn't provide the chuckling Canadian actor with very many reasons to cut loose. It's an introspective drama about a young woman (Michelle Williams) who contemplates cheating on her husband (Rogen) with an alluring neighbor (Luke Kirby). Still, just because "Take This Waltz" is serious, doesn't mean the internet has to be.
Over at Film.com, they've cut together a video of Rogen's laugh -- from "Undeclared" to "Kung Fu Panda." It's transfixing. Like a lava lamp.
Watch above. Head over to Film.com for the full list of movies and shows featured in the clip.
Subscribe to TRAILERS: bit.ly Subscribe to COMING SOON: bit.ly Take This Waltz Official Trailer #1 - Michelle Williams, Seth Rogen Movie (2012) HD A happily married woman falls for the artist who lives across the street. movieclips movie clips HD "new trailers" "new movies" "take this waltz" "take this waltz trailer" "michelle williams" "seth rogen" "sarah polley" "away from her" "luke kirby"

www.FUNNYPEOPLEMOVIE.net

www.x101.info Zack and Miri Make a Porno is an upcoming 2008 comedy film written and directed by Kevin Smith. It is the second Smith film (after Jersey Girl) not to be set within the View Askewniverse and the first not set or shot in New Jersey. It is scheduled for October 31, 2008 release. Zack and Miri Make Porno (2008) Red Band Trailer TRUE HD QUALITY Seth Rogen Elizabeth Banks.

zuguide.com Ben Stone (Seth Rogen), an out of shape slacker is living his dream: sharing a house with his friends, partying all day and having absolutely no responibilities. Alison Scott (Katherine Heigl) is a motivated career woman with a promising future in television. They seem like the unlikeliest of couples, but after a few drinks at a bar where Alison is celebrating her recent promotion, the pair have a one night stand. Their relationship would have ended there, but eight weeks later Alison discovers that she is pregnant. Now, Ben and Alison will have to decide if they can make things work for the sake of the baby, or if their differences are just too much to overcome. Directed by Judd Apatow. With Paul Rudd, Leslie Mann, Jason Segel, Jay Baruchel, Jonah Hill and Harold Ramis. Categories: Comedy, Drama, Romance. Year: 2007. For more trailers with Seth Rogen, please see zuguide.com Also, for movie previews starring Katherine Heigl, see zuguide.com Trailers with Jay Baruchel, can be seen at zuguide.com

Become a fan on Facebook -- www.facebook.com Inspired by an incredible real-life experience, 50/50 is a funny, touching and original story of friendship, love, and survival starring Joseph Gordon-Levitt, Seth Rogen, Anna Kendrick, Bryce Dallas Howard, and Anjelica Huston. In theaters September 30, 2011. Visit the official site for more content and info - www.50-50themovie.com

PAUL - Official Movie Trailer in HD ... starring Simon Pegg, Nick Frost, Seth Rogen, Kristen Wiig, Jason Bateman, Sigourney Weaver, Blythe Danner and Jane Lynch. The film will be released on 03/18/2011 by Universal Pictures.

Next summer, the guys who brought you Superbad reunite for the action-comedy "Pineapple Express." Lazy stoner Dale Denton (Seth Rogen) has only one reason to visit his equally lazy dealer Saul Silver (James Franco): to purchase weed, specifically, a rare new strain called Pineapple Express. But when Dale becomes the only witness to a murder by a crooked cop (Rosie Perez) and the city's most dangerous drug lord (Gary Cole), he panics and dumps his roach of Pineapple Express at the scene. Dale now has another reason to visit Saul: to find out if the weed is so rare that it can be traced back to him. And it is. As Dale and Saul run for their lives, they quickly discover that they're not suffering from weed-fueled paranoia; incredibly, the bad guys really are hot on their trail and trying to figure out the fastest way to kill them both. All aboard the Pineapple Express.