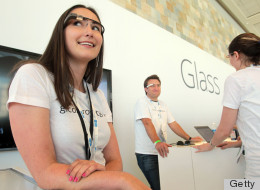 Silicon Valley is notorious for its still-pervasive gender gap (Sheryl Sandberg's success notwithstanding). But it seems like slowly but surely, tech companies like Google are familiarizing themselves with "the second sex" and letting women in -- emphasis on slowly but surely.
Today kicked off Google I/O 2012, the company's annual conference for developers with panels like "What's Next For Chrome Extensions?" and "SQL Vs NoSQL: Battle Of The Backends" (we know, scintillating stuff). But the conversation turned from tech to culture at "Women Techmakers," a panel where female techies discussed the current state of women within the tech world.
The many problems for women, an attendee named Alex Maier pointed out at the panel Q&A, could be illustrated by a single garment: the I/O event t-shirts. According to Wired.com, Maier stated:
"They gave me a t-shirt and it's a size small, men's... That makes me feel unwelcome. I don't want to make this a big issue or confrontational thing…. But the thing is, I show up, and I want my shirt, and I don't want to be told that I can sleep in it."
In response to Maier's well-made point (and the hearty applause it engendered), senior vice president and panelist Susan Wojcicki told her, "We'll communicate it — and make sure we have women's t-shirts."
Jezebel points out that the t-shirt fix is just one small piece of a larger battle, which includes getting more women into the tech industry in the first place. But while they're at it, we'd like to put on our fashion editor hats for a second and suggest another change: how about actually making the I/O t-shirts attractive?
Stupidest Products For Women
For those who want to pleasure themselves in the most dangerous way possible. (source)

Perfect for moms who want to look like that guy from "Total Recall." (source)

Everyone will notice your enhanced behind, but probably not in the way you'd like. (source)

Because for the last 2,000 years large-chested women haven't gotten any sleep at all. (source)

Because there's no way women will pick up a wrench if it isn't the color of roses. (source)

This is one treat you must be REALLY careful not to go overboard on, unless you want to be an A-cup at dinner and a D-cup after dessert. (source)

Whatever happened to popping a squat? (source)

We honestly don't understand how this works. What's more confusing is how she managed that weird smile/frown combo in the "before" photo.

For $286, you can wear earrings with long strands of real human hair attached. Yeah, we don't get it either. (source)

At $94.29 a pair, these are quite possibly the most expensive route to looking as cheap as possible. (source)

Tone your face with this rejuvenating mask! If you haven't already scared everyone away by looking like a serial killer, people will think you look great. (source)

Color for the hair "down there." Sure to freak out your partner! (source)
Want more? Be sure to check out HuffPost Style on Twitter, Facebook, Tumblr and Pinterest.