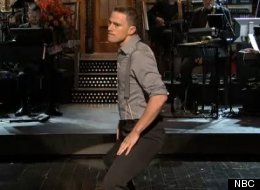 Channing Tatum is showing off his sweet moves anywhere and everywhere he can, and that's nothing new for the star of "Magic Mike."
When he hosted "SNL" earlier this year, he broke out his amazing gyrations during the opening monologue, and even, thank the lord, ripped his shirt open.
So if you're like us and you need more Channing Tatum pelvic thrusts right this very second, here are 7 GIFs of him gyrating anywhere he damn well pleases. Like he do.
Channing Tatum Gyrates Everywhere: Animated GIFs
With long-time fan Nancy Pelosi

SPOILER: Channing Tatum's gyrations are the real origins of life on earth

She hates to go, but she loves to watch Channing Tatum leave

"Hey kids, if you eat healthy you can look and move like this."

Channing Tatum is very serious about the state of the news business

That's his secret, Cap, he's always gyrating.

But look how serious he is.