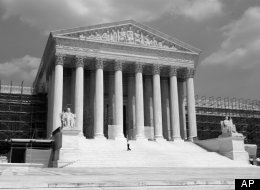 The Supreme Court issued a ruling on President Barack Obama's signature health care reform law on Thursday.
HuffPost's Mike Sacks reports:
The individual health insurance mandate is constitutional, the Supreme Court ruled Thursday, upholding the central provision of President Barack Obama's signature Affordable Care Act.

The 5-4 majority opinion, written by Chief Justice John Roberts, upheld the mandate as a tax, although concluded it was not valid as an exercise of Congress' commerce clause power. Justices Ruth Bader Ginsburg, Stephen Breyer, Sonia Sotomayor and Elena Kagan joined in the majority.
Below, a live blog of reaction to the news and the latest developments to unfold.
Republican governors and officials from numerous states won't commit to expanding their Medicaid programs to more of their poorest residents after the Supreme Court ruled Thursday they could opt out. The Obama administration believes they're bluffing.
A top official at the Department of Health and Human Services predicted Friday that all states will take the federal money on the table to expand Medicaid, which is jointly funded and managed by the federal and state governments, to anyone earning up to 133 percent of the poverty threshold, which is ,856 for an individual this year. The federal government will pay the full cost of covering an estimated 17 million new Medicaid enrollees from 2014 to 2017 and 90 percent of the costs into the future.
"We believe that, now that the court has clearly ruled on the constitutionality of the Medicaid expansion, that states, in fact, will take advantage of the coverage of these individuals," Mike Hash, the interim director of Center for Consumer Information and Insurance Oversight, said during a conference call with reporters.
That's an optimistic prediction, if the early reactions from Republican governors like Bobby Jindal of Louisiana, Bob McDonnell of Virginia, Sam Brownback of Kansas and Scott Walker of Wisconsinare any guide. These and other Republican governors haven't specifically committed to refusing to cover more poor people through Medicaid, but they continue to maintain they will take no steps to implement the health care law in their states.
The administration will "keep working with states and other partners to implement the law," Health and Human Services Secretary Kathleen Sebelius said. "What we can't afford to do is spend any more time refighting political battles."
The lawsuit that could have felled Obamacare was brought by 26 states, and states will continue to be major battlegrounds on which the future of health care reform will be determined. In addition to the uncertainty about the Medicaid expansion, many states haven't taken steps to establish the health insurance "exchanges," where people can obtain health plans or Medicaid benefits. Like the Medicaid issue, some Republican governors simply refuse to take part in the health care reform. Only 14 states and the District of Columbia have begun creating exchanges, and the remainder have until Nov. 16 to submit proposals to the federal government.
Hash offered another rosy assessment on this score: "Our objective is that every state will operate a state-based exchange," he said. "We will be ready to ensure that every American has access to affordable, high-quality coverage in Jan. 1 of 2014."
-- Jeffrey Young