Adele Is Having A Baby: Babies Show Love For Adele (VIDEO)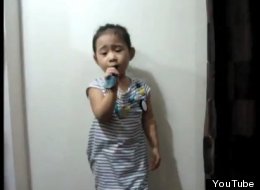 Earlier this year, we learned that Adele's massive fan base includes a very serious 2-year-old, a young brother/sister duo, and plenty of kids in car-seats who (adorably) try to be a superstar just like her. Now, the 24-year-old has confirmed that she is going to have her own child with boyfriend Simon Konecki. We are very excited for the mom-to-be and more than a little jealous of the baby who will clearly fall asleep to the most beautiful bedtime lullabies ever.
To say congrats, we've compiled the cutest toddlers and big kids singing Adele songs on camera. Listen to the brand new mashup, "The Babies Of YouTube Sing 'Rolling in the Deep,'" above or press play on the cutest version of "Someone Like You" below. Also, you're welcome.