Welcome to the third installment of "WTF, CSA?" Each week this CSA season, we'll help you make use of your overflowing CSA baskets. You ask, we answer. That's how this works. Or rather, you shouted, "WTF?" into your CSA box and now we're going to tell what on earth to do with all those garlic scapes.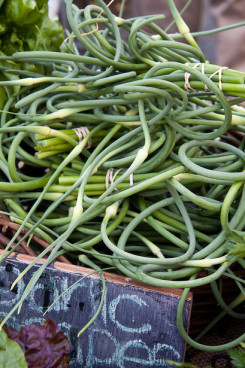 Admittedly, the first time we ever saw a garlic scape, we definitely thought, "WTF is that?" These twisty, curly, bright green stems are also sometimes called garlic shoots, stems or spears. The garlic that we all know and love has separate cloves and papery skin. That stuff starts out as green garlic (or spring garlic), before it matures. The bulb and roots grow underground while a stem, leaves and scapes soak up sunshine up above.
Obviously, garlic is amazing for lots of reasons, but here's our favorite one: the whole plant is edible. This includes the scapes, which are treats that come along each early summer in markets and CSAs. Garlic scapes taste (duh) like garlic, but a bright, fresh, verdant version of it. You can use them anywhere you'd use regular garlic.
"So," a friend recently asked me, "is there any real reason I should buy garlic scapes instead of garlic?" Cooking with garlic scapes is like getting to have scallions that taste like garlic -- so yes, go get some while they're around!
Get the Garlic Scape Vinegar recipe from Pitchfork Diaries

Get the Garlic Scape Beef Satay with Garlic Scape Satay Dip recipe from Food52

Get the Garlic Scape Green Gazpacho recipe from Veggie Obsession

Get the Pickled Garlic Scapes recipe from Not Without Salt

Get the Bacon-Wrapped Garlic Scapes recipe from Cold Garden Warm Kitchen

Get the Okonomiyaki with Garlic Scapes recipe from Five and Spice

Get the Garlic Scape Pesto recipe from The Coeur d'Alene CoopGarlic Scape Pesto recipe from The Coeur d'Alene Coop

Get the White Bean and Garlic Scape Dip recipe from Mountain Mama Cooks

Get the Garlic Scape and Zucchini Pizza Recipe from A Thought For Food

Get the Frittata with Scapes and Goat Cheese from Rouxbe Cooking School

Get the Spinach, Pea and Garlic Scape Soup recipe from Dinner With Julie

Get the Stir Fried Forbidden Black Rice with Tempeh, Garlic Scapes, Crimini recipe from Food52

Get the Brick Chicken with Garlic Scapes and Lemon recipe from Food52

Get the Pasta with Garlic Scapes, Fresh Mozzarella and Basil recipe from The Wright Recipes

Get the Market Stuffed Squash Blossoms recipe from A Spicy Perspective

Get the Vegetarian Stir-Fried Garlic Scapes recipe from Red Cook

Get the Garlic Scape and Gruyere Biscuits recipe from The Pink Apron

Get the Last of the Season "Grilled" Spot Prawns With Garlic Scape, Cilantro and Lime Aioli recipe from Food52

cookwithb:Garlic Scape Hummus

ChefDanielle:Garlic scape's intensely garlic flavor is perfect for this quick and simple dip.

Get the Lacto-Fermented Pickles with Garlic Scapes recipe from Food52