Michael Marin, Ex-Wall Street Trader, Dies In Courtroom After Conviction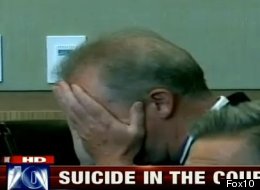 An ex-Wall Street trader collapsed and died in a Phoenix-area courtroom Thursday, shortly after being found guilty of setting his mansion on fire in a ploy to escape his mortgage debt.
Police are now investigating whether the man, Michael Marin, purposefully killed himself. Shortly after the jury read its verdict and sentenced him to 16 years in prison, Marin appeared to place something in his mouth several times and drink from a bottle he brought with him into the courtroom. Minutes later, he suffered from a seizure and died. Police can't yet confirm whether Marin's death was a suicide.
Marin's mansion in a ritzy Phoenix neighborhood caught fire in 2009, the Arizona Republic reports. Marin claimed he had to escape from the house wearing a scuba tank and mask to protect himself from the smoke, but investigators found evidence that he set the fire himself.
Though he had grown accustomed to a lifestyle that reportedly included owning Picasso sketches and $800 climbing boots, Marin's financial situation grew dire the year before the fire. His bank account balance fell to only $50 from $900,000 even while he had a monthly mortgage payment of more than $17,000, according to the Arizona Republic.
Tragically, if Marin's death was indeed a suicide, he wouldn't be the first to end his life in the face of financial woes. Norman Rousseau shot and killed himself in May in the midst of a battle with Wells Fargo to stay in his home. In Ohio, a man shot his wife and then turned the gun on himself one day after authorities ordered him to leave his home.
Across the Atlantic, suicide has become more common among small-business owners and entrepreneurs coping with financial crisis in countries like Greece and Italy, according to The New York Times. The phenomenon has become so widespread that some European newspapers are calling it "suicide by economic crisis."
Here are some stories of other troubled executives:
After discovering that his brokerage firm PFGBest had lost over $200 million worth of customer funds, CEO Russell Wasendorf Sr. attempted suicide outside the firm's Iowa headquarters.

Eli Black committed suicide after it was discovered that he offered a $1.25 million bribe to a Honduran official in 1975, TIME Magazine reported at the time.

Following the 2008 Financial Collapse, co-workers reported that Mr. Kellermann worked himself to exhaustion. He killed himself in 2009.

Just weeks after Enron filed for bankruptcy, J. Clifford Baxter committed suicide in January 2002, CNN reported at the time.

Rene-Thierry Magon de la Villehuchet invested $1.4 billion into Bernie Madoff's investment fund. When it was discovered that the fund was a ponzi scheme and he had lost everything, he killed himself, the BBC reported at the time.