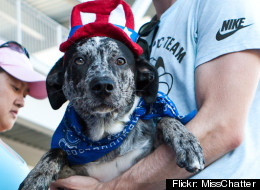 As we all finalize our Fourth of July plans, it's important to remember that the key ingredient in any Independence Day celebration is a fuzzy friend outfitted in patriotic garb. Show your neighbors you mean business when it comes to being proud to be an American.
To inspire you, here are some pretty amazing dogs (and a few other animals, but let's face it, dogs are clearly the most patriotic) showing off the red, white and blue.
If you were just thinking of throwing your old blue bandana around your dog's neck, maybe you should move to Russia.
Fourth Of July Celebrated By Animals
This dog is twice as patriotic as you.

This cat sleeps in red, white and blue.

He's bringing back pride.

Who says being patriotic can't be adorable?

Walk soft...

We couldn't have said it better ourselves.

This dog is ready to go and make it a star-spangled day.

This dog's patriotic 'tude is to be commended.

Sometimes you have to shout your pride.

Commemorating the world's most patriotic dog.

This dog wants YOU... to join the party.

The decorum shown here is tremendous.

Nothing more American than a cat nap.

If you can get this outfit on your bird, you're more patriotic than every single other American.

Take that dogs and cats.