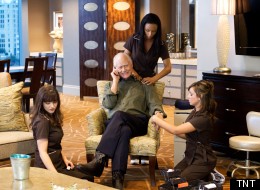 Thanks to the Fourth of July holiday, it's a fairly subdued week for primetime programming.
But if you don't feel like splashing out on fireworks at home, NBC has got you covered on Wednesday night with the annual "Macy's 4th of July Fireworks Spectacular," hosted by Regis Philbin. Elsewhere on Wednesday, TNT is offering a chance to catch up with the first four episodes of "Dallas" before a new episode airs at 9 p.m.
Thursday brings the second episode of MTV's comedic gem "Awkward," while Barbara Walters ponders the mysteries of life after death with an archbishop, a rabbi, a terrorist and the Dalai Lama (among others) on Friday's "20/20" special on heaven.
Check out our slideshow for more TV picks for the week.
(10 p.m. ET on TLC) series premiere This new competition series follows four homeowners who are invited to preview, critique and score each other's homes for the chance to win $10,000 and an opportunity to be featured in Better Homes and Gardens magazine. Each episode features design-obsessed homeowners as they vie to impress the other three contestants with their unique decor and personal style. The contestants will have the chance to snoop around each home and give their frank -- and often harsh -- opinions before awarding the home an overall impression score out of ten and ranking it for originality, style and livability.

(11 p.m. ET on Showtime) season premiere Lisa Kudrow returns as Fiona Wallice, the self-professed and self-serving psychotherapist who treats patients in three minute sessions via webcam. The eleven, half-hour episodes of Season 2 find Fiona playing the woman-behind-the-man in Kip's political campaign while juggling her burgeoning career as an author and continuing to advise the hapless clients who have wandered into her web (including a few familiar faces).

(8 p.m. ET on The CW) season finale When Nathan wants to set up a last minute Cinco de Mayo party at The Catalina, Morgan is furious at the lack of notice and contemplates leaving the hotel. Meanwhile, Kris puts the moves on Stephanie, sparking a chain of gossip amongst the staff, and paranormal investigators discover that the hotel might be haunted.

(9 p.m. ET on Bravo) special presentation If you're a fan of trainwreck TV, you won't want to miss this rundown of some of the most memorable reunion moments from the "Real Houswives" franchise.

(9 p.m. ET on TNT) Following a catch-up marathon of the first four episodes (beginning at 5 p.m. for your Independence Day viewing pleasure), episode five sees tensions running high between newlyweds Christopher and Rebecca, while the deed to Southfork is revealed, threatening to tear apart familial bonds.

(9 p.m. ET on NBC) special presentation Regis Philbin hosts a star-studded celebration of the country's 236th birthday, featuring performances from Katy Perry and Kenny Chesney. The special will culminate with the nation's largest Fourth of July fireworks display, featuring more than 40,000 firework shells igniting over the Hudson River in New York City.

(10 p.m. ET on Bravo) season finale The first season of Kathy Griffin's raucous pop-culture talk show comes to a close with guests Jimmy Kimmel, Nick Rizzo and John Oliviera.

(10.30 p.m. ET on MTV) The discovery of a secret security camera -- and its missing footage -- sends the school into an uproar, with students feeling compelled to confess all of their most embarrassing hook-ups before the tape turns up in the wrong hands. The series reaches new heights of hilarity with the introduction of Becca, the intimidating head of the school's Asian clique.

(9 p.m. ET on ABC) special presentation Anchored by Barbara Walters, "Heaven: Where Is It? How Do We Get There?" explores the meaning of heaven with religious leaders of the major faiths, scientists, people who say they believe in heaven because they have been there, with celebrities who are vocal about their beliefs, and even with terrorists.

(9 p.m. ET on TLC) Olympic skater Johnny Weir helps a friend shop for a wedding gown.

(8 p.m. ET on BET) season premiere Yolanda Adams and CeCe Winans join the gospel singing contest as new judges for the fifth season.

(9 p.m. ET on TLC) season premiere An Elvis impersonator finds himself swamped by stacks of The King's memorabilia.