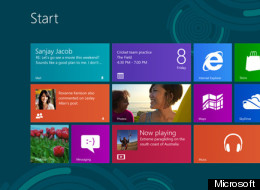 Planning on upgrading your current PC to Windows 8? Unless you're still on Windows 95, Microsoft just revealed how much you might be paying.
For users with laptops and desktops running Windows XP, Windows Vista and Windows 7, a digital upgrade to Windows 8 Pro will cost $40 if downloaded before Jan. 31, 2013, according to a fresh post on the Microsoft Windows blog. That's the price to download Windows 8 Pro and install it without an actual physical copy of the download; Microsoft will also mail you a DVD version of Windows 8 for backup purposes for an extra $15 plus shipping and handling. Upgrades to Pro will also have the option to add the Windows Media Center program to their download for free.
If buying over the Internet isn't your thing, customers can choose to purchase Windows 8 Pro in stores for $70. These prices are apparently only good through Jan. 31 and will increase after that date.
There is still a chance, too, that the price of your Windows 8 upgrade could be even lower than $40. The announced price is for Windows 8 Pro, the version of Windows 8 that adds several encryption and security features to cater to businesses and enterprise customers. Regular old Windows 8, without all that enhanced security stuff, could be cheaper still. Announcing the new editions of Windows 8, Microsoft's Brandon LeBlanc wrote that Windows 8 was "the right choice" for many consumers, while Windows 8 Pro was better for "tech enthusiasts and business/tech professionals."
Ina Fried of All Things Digital points out that $40 is less expensive than previous Windows upgrades have been -- an upgrade to Windows 7 Professional from Vista, for example, cost $100. This is perhaps a response to the cheap Mac OS X updates sold by rival Apple (Mountain Lion, the upcoming OS X update, will cost $20 per download), or perhaps an effort to get customers to commit to Windows 8.
Will these lower prices spell higher adoption rates for Windows 8 when it's released this fall? In the past, Microsoft has had trouble convincing its users to upgrade their Windows machines -- Windows 7 is just now passing Windows XP in worldwide market share -- and the push leading up to Windows 8 seems no different. And consumers' unwillingness to pay for an upgrade may be exacerbated by how radically different the Metro design of Windows 8 appears.
You can read more about Windows 8 Pro, and how the download/installation process actually works, at the official Blogging Windows website. And if you need a refresher on what will be changing in Windows 8, you can download the free Release Preview of the new operating system from Microsoft, or check out some photos of the redesigned Windows below.
The new lock screen for Windows 8, which appears after you put your computer to sleep or restart or lock your computer. Notifications such as new email alerts, Wi-Fi availability and other essential, user-chosen information will be pushed to this screen.

Here is the start screen in the 'Metro' view (the classic start bar "desktop" view is still available). Users can scroll side-to-side, much as they would on an iOS or Android phone, for different groups of applications. Immediately to the right of this homescreen is the media hub (seen above).

Users have the option to categorize their apps into genre or function. Sinofsky and Green showed off a Media category, Games category and social networking category.

Users can zoom out from this view to see all of their apps at once. This is also where you can move entire blocks at a time closer to the homescreen. For example, if you want Games immediately next to your homescreen, or on the homescreen itself, you can pick up the entire block and drag it to the left.

Emphasizing touchability, a demo of the Windows 8's on-screen keyboard was shown to pop up with the scroll of the thumb. The new Microsoft OS still works, of course, with mouse and physical keyboard, but this is an option for those on tablets or touchscreen PCs.

The new control panel, in Metro view.

An RSS reader in Metro view--very scrollable and visual.

An expanded view of the RSS feed. Users can scroll up and down within articles or left and right to switch between articles.

A view of a hypothetical social network, in a pane interface. You can see the news feed pane on the left and the full view on the right.

While playing a video of paragliding, Julie Larson-Green turned up the volume via in the collapsible sidebar settings panel.

You can view two apps or windows at once on your tablet by dragging them together and letting them "snap" together. Seen above, a scannable News Feed flanks a paragliding video, letting the viewer work while enjoying media entertainment.

Starting up Internet Explorer in Metro mode. Here you can see the Most Visited pages and Favorites pinned to the page.

Typing a web address into Internet Explorer using the on-screen explorer.

A webpage viewed in Internet Explorer.

The 'Share Charm' icon sits on the Start bar. When you see something within an app you want to share, pull out the start bar and click 'Share"...

Select a piece of text, image, video or whole webpage and choose a contact in your address book you want to send that information to.

Green didn't mean to, but she showed off another new feature of Windows 8 (also recently added to Lion OS X): Universal Spell Check, which proofs words typed in any Windows 8 app.

Speaking of Mac, Windows 8 will have a spotlight-style universal search, which will let the user browse through the entire system for a search query.

The search bar can also scan through any of your apps, including apps like Bing that search online.