Accurately typing on your smartphone with but one hand can require the dexterity, flexibility, and finger strength of a world-class thumb wrestler. There is even a term for the aches and pains that can be caused from too much one-handed mobile typing: smartphone thumb.
What if your smartphone could meet you half-way? A recent photograph posted to Windows Phone blog wmpoweruser shows a keyboard concept for Windows Phone that could, if accurate, lessen the difficulty of typing one-handed on your smartphone by curving or rotating the keyboard to meet your thumb. The number of work days you miss due to chronic smartphone thumb could decrease dramatically.
Here's the alleged leak, showing a "Curved To Match Thumb" keyboard which will supposedly be an optional feature of the upcoming Windows Phone 8 operating system, due in the fall: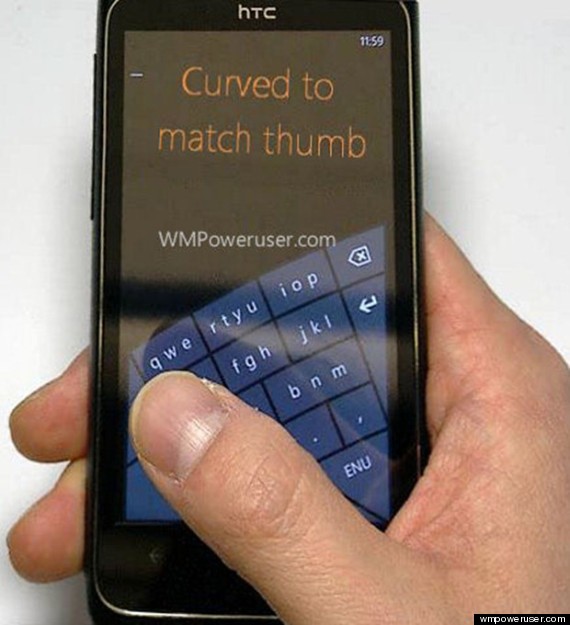 Microsoft revealed some features of Windows Phone 8 at an event on June 20, though most of what the company showed off dealt with the back end of the mobile operating system -- changes that affect developers and device manufacturers more directly than the end user. Though Microsoft did unveil a redesigned home screen for WP8, the mid-June event had been pitched as a developer's conference, and the homescreen redesign as a tease of more new features to come.
In other words, Microsoft still (presumably) has more Windows Phone 8 features to show consumers, and the curved keyboard concept could be one of them. Still no word on whether Swype, the popular slide-to-type keyboard on Android, will make its way onto Windows Phone 8, as some have speculated.
We've seen some fairly strange keyboard concepts through the years that have yet to come to fruition -- the display with rising and falling tactile buttons comes to mind. If Microsoft does implement the curved keyboard, it will certainly be one of the most radical keyboards available on a mainstream smartphone.
We've reached out to Microsoft for comment and will update when we hear back, if we're not all in the hospital for smartphone thumb-related injuries.
SUBSCRIBE TO & FOLLOW THE MORNING EMAIL
Start your workday the right way with the news that matters most. Learn more