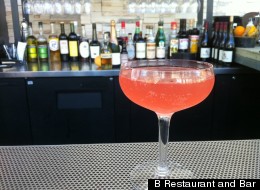 San Francisco may not have been on the front lines of the American Revolution (as we pointed out earlier, our city was founded just a week before the signing of the Declaration of Independence in 1776), but we can still get plenty patriotic when pressed.
And since the first rays of San Francisco sun touch down just after June, nothing says "start of summer" like the Fourth of July. That is, nothing but a formidable Fourth of July cocktail.
Now, we've been known to throw back a PBR at Crissy Field with the best of them. But around town, San Francisco bars and restaurants have been shaking up some drinks that make us want to declare independence from cheap beer altogether.
Check out a few of our favorite spots that will be serving up red, white and booze all week long. (Bonus: you can make a few of them at home!)
San Francisco Patriotic Cocktails
A nod to Gershwin's satire of the same name, the "Of Thee I Sing" cocktail was allegedly created by William Gaxton, the Broadway star who appeared in the musical in 1931. Presidio Social Club has recreated the sipper just for the Fourth. Of Thee I Sing, Baby 1 1/2 oz. Jamaican Rum (Appleton V/X) 3/4 oz. lime juice 1/2 oz Cointreau 1/4 oz. grenadine (real grenadine made from pomegranates is preferable.) Pour ingredients into a cocktail shaker with ice and shake. Strain into a cocktail glass and garnish with a lime wedge.

B Restaurant Bar Manager Marjan Simovics garnishes his patriotic punch with a slice of dehydrated red-apple peel and a dried blueberry. The Liberty Belle 1 1/2 oz Jefferson's Bourbon 1 1/2 oz 21st Amendment IPA 1/2 oz Unfiltered Apple Juice 1/2 oz Maple Syrup 1/2 oz Lemon Juice 4 dash Angostura bitters 1 dash Creole Bitters 1 dash Baked Apple Bitters Combine ingredients over ice in a shaker, except for the beer. Shake it 15 times and double strain it into a cocktail glass. Top it off with 1.5 oz of IPA. Gently stir with a bar-spoon, once.

It's all about the ingredients in Manresa's 1776. "PranQster Ale, Whistle Pig Rye, Cointreau and lemon make up this patriotic cocktail," says Manresa's Jeff Bareilles. "The Rye is from New England and the Cointreau celebrates the French's role in the Revolutionary War victory." 1776 1.5 oz Whistle Pig Rye Whiskey .75 oz Lemon Juice .25 oz Cointreau 6 oz PranQster Belgian Style Golden Ale (North Coast Brewing Company)

This cocktail may not be exactly patriotic, but for our money, nothing says Fourth of July like Chaya's Kentucky Lemon Tree: rye whiskey, limoncello, lemonade and soda.