WEPA!
Gloria Estefan looks stunning on the cover of Latina magazine's August 2012 issue!
The 54-year-old Cuban superstar (who looks much younger than she actually is), gets candid in the magazine's yearly music issue, talking about her successful marriage to producer Emilio Estefan, the devastating car crash that almost took her life, and why money can't buy happiness.
"Forget the money and the notoriety, because you don't take that home and put it to bed with you," Gloria tells Latina. "What difference does it make if you have all this fame and people are clamoring for you and you're off that stage and you're home alone?" she says.
So, what does make her happy? Her long-lasting marriage to music producer Emilio Estefan.
"We are partners in everything," Gloria says. "Emilio has been there for me and I've been there for him and his growth. It's been a great balance."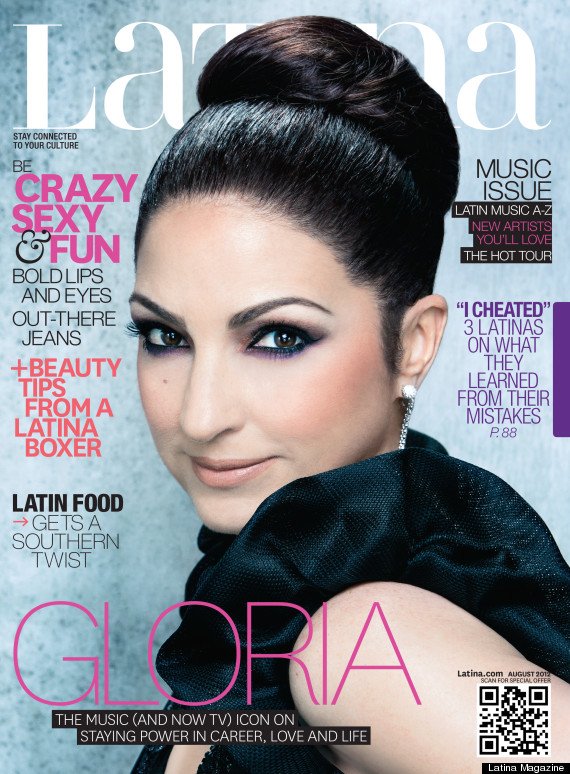 And, after several decades in the business, Gloria also tells Latina what it means to her to continue to be a source of pride and inspiration to millions of Latinas.
"Inspiring Latinas is the most beautiful side product of my career," she explains in the interview. "It's a beautiful thing to inspire somebody in some way and make them feel, 'I can do this.'
As for her career, Gloria says she never got into the music business to become famous.
"I've been so blessed to do what I love, and my personality has never been about becoming famous," she explains. "The fame is something you deal with because of the career."
The August 2012 issue of Latina magazine hits newsstands on July 10th.

CHECK OUT THIS SLIDESHOW OF LATINOS ON THE HOLLYWOOD WALK OF FAME
Latinos in Hollywood Walk of Fame
Cuban born actor, Andy Garcia earned his star in The Hollywood Walk fo Fame in 1995. Garcia earned an Oscar nomination for his role in "The Godfather Part III" and a Grammy as producer of "Ahora Si" by Israel "Cachao" Lopez. More recently he played the role of Terry Benedict, the casino mogul, in "Ocean's Eleven" and it's following sequels. Garcia will appear in the movie "Hemingway and Fuentes", which will be released in 2012, in the role of Gregorio Fuentes.

Aguilera, who's father is originally from Ecuador, was awarded a star in The Hollywood Walk fo Fame in 2010. In 1999 she had three number one singles on the Billboard Hot 100--"Genie in a Bottle", "What a Girl Wants", and "Come On Over Baby (All I Want Is You)."

The Mexican-American rock star was immortalized in 1998. Santana is known for his guitar-playing skills and he became famous in the late 60 with his band "Santana". He was a pioneer in mixing Latin rhythms, jazz and rock. In 2003, Rolling Stone Magazine named Santana number 15 in their list of 100 greatest artists of all times.

George Lopez, of Mexican descent, was awarded a place in The Hollywood Walk of Fame in 2006. He is known for starring in his popular ABC sitcom "George Lopez". He is also known for his stand-up comedy which examines race and ethnic relations, focusing in Mexican American culture.

The Estefans share one more thing other than their Cuban descent and their undeniable musical talent. They both have star in The Hollywood Walk Of Fame. Gloria got hers in 1993 and Emilio got his in 2005. The power-couple has been married since 1976 and have been producing great music ever since.

The Mexican singer, known as "El Rey De Rancher" ("King Of Ranchera Music") was awarded a star in 1998. Fernandez, who started singing at local restaurants and events, is now not only a famous singer, but a cultural icon. In 2002 Fernandez was recognized by the Latin Recording Academy as Person of the Year.