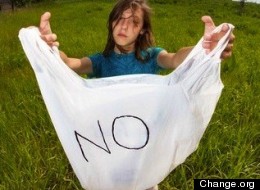 A 12-year-old Illinois animal lover's Change.org petition took her all the way to the governor's office Tuesday.
Abby Goldberg, of Grayslake, Ill., was growing increasingly annoyed by the numerous plastic bags that flew near her family's home from a nearby landfill and moved to create a petition urging Illinois Gov. Pat Quinn to not sign legislation (SB 3442) that would make it illegal for her town -- or any other one statewide -- to ban the use of plastic bags, NBC Chicago reports.
The petition, which began as start of a school project, was a hit and has been signed by over 155,000 people, to date.
The budding activist is not daunted by those who might be tempted to write off her efforts on account of her young age.
"I'm 12, so I've gotten that reaction: 'She's 12, what can she do?'" Abby previously explained to the Chicago Sun-Times. "You can make a difference no matter how old you are."
The seventh grader headed to downtown Chicago Tuesday with the hopes of meeting with the governor to deliver her petition signatures in person, Patch reports. She was to be joined by representatives of the Chicago Recycling Coalition and Environment Illinois and Don Gerard, mayor of Champaign, which is looking into strategies to reduce plastic bag use.
SB 3442 has been decried by environmentalists who say the bill is an attempt by manufacturers and retail groups to eliminate any chance that local governments could act on their own volition to regulate or ban the use of plastic bags. Lawmakers in both Evanston and Chicago have recently explored such proposals.
"Business groups really wanted to get rid of the ban, tax, and takeback programs that communities are doing," Jennifer Walling, Illinois Environmental Council executive director previously told WBEZ.
Proponents of the legislation say it will expand access to plastic recycling stations.
The Chicago Tribune reports that the governor's office has not yet indicated whether Quinn will sign the bill.