WASHINGTON -- Now that the Supreme Court has declared the health care law constitutional, will that ruling change public opinion about the law? Not very much, judging from five new surveys conducted since last week's decision.
The five national telephone surveys found Americans as divided as ever on Obamacare. All five registered a nearly even split, with roughly as many respondents saying they approve of the Supreme Court ruling as those saying they disapprove. The only statistically meaningful variation involved the number who say they are unsure of their own opinion.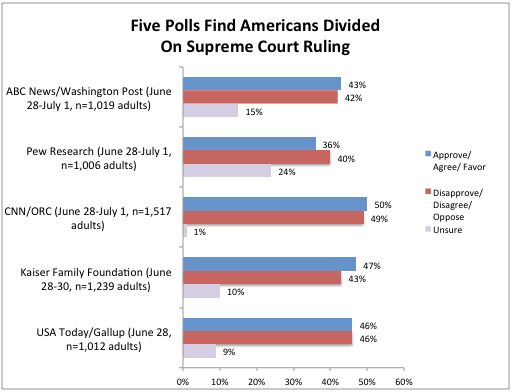 These reactions show the same partisan division that has long characterized public opinion on the health care law. Roughly three out of four Democrats tell pollsters they approve of the ruling, at least three out of four Republicans say they disapprove, and independents divide almost evenly (although the independents tilt slightly toward disapproval on surveys with a larger percentage of undecideds).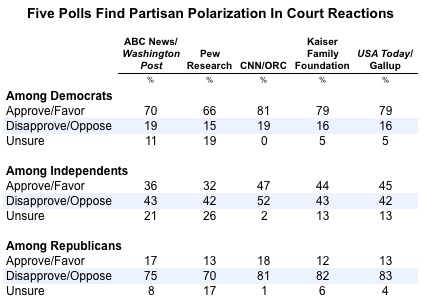 In considering the findings, remember that many Americans did not follow the Supreme Court decision. In fact, the Kaiser Family Foundation survey found that more than one-third of Americans (41 percent) were unaware of the ruling. Similarly, the Pew Research Center survey found significant percentages who either were uncertain about how the court had ruled (30 percent) or believed incorrectly that the justices had rejected most of the law's provisions (15 percent).
Not surprisingly given the combination of those who paid little attention to the ruling and polarization of opinion among those who did, few minds appear to have changed. The CNN poll found a slight increase since February 2011, from 45 to 52 percent, in the number saying they favor all or most of the provisions of the health reform law. But the Kaiser Family Foundation found an "even split" in opinion, the same division that has been evident in its monthly tracking since the law passed in April 2010. (Other surveys typically show slightly more Americans expressing support than opposition.)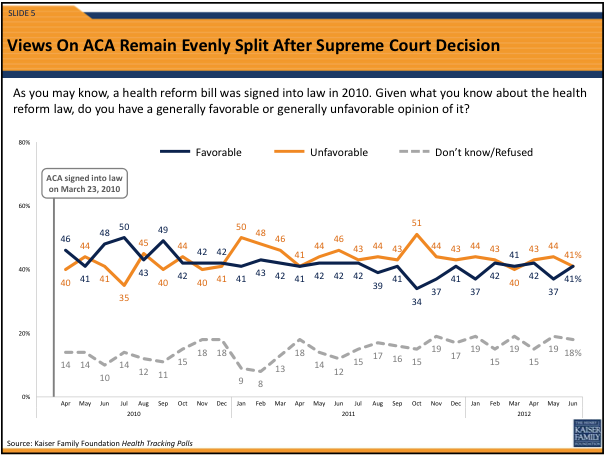 The Kaiser Family Foundation poll did find a slight shift in intensity of support for Obamacare. According to its report, "very favorable" views of the law among Democrats jumped from 31 percent in May to 47 percent in June -- "an all‐time high in Kaiser polling stretching back two years." On the other hand, 64 percent of Republicans said they had a "very unfavorable" view of the law in June, which is slightly less than in April or May, but more than for the prior two years.
Of course, all of these polls were conducted in the immediate aftermath of the Supreme Court decision, when it still dominated news coverage. Pew Research reported that 45 percent of respondents said they had closely followed news of the decision, making it "the month's most closely followed story, surpassing the economy and the presidential election." Immediate shifts in intensity of opinion could easily abate as the media focus fades.
In fact, the Kaiser Family Foundation found that a majority of Americans may be hoping for an end to partisan battles over the health care law. The foundation asked what opponents should do in light of the Supreme Court decision. More than half (56 percent) want Obamacare foes to "stop their efforts to block the law and move on to other national problems," while just 38 percent hope opponents will "continue trying to block the law from being implemented." Those saying it's time to move on include 26 percent of Republicans and 51 percent of independents who lean to neither party.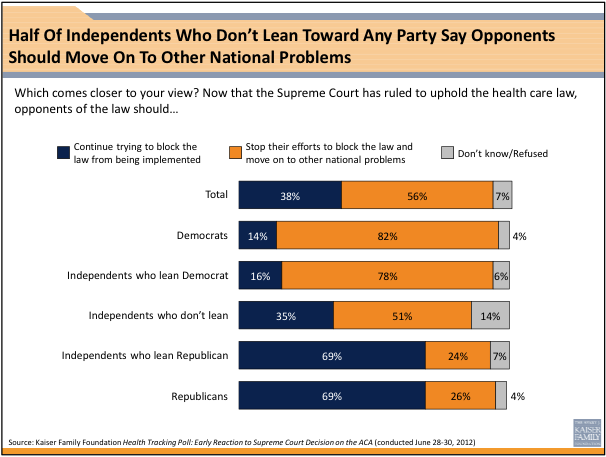 Related on HuffPost:
Political Reaction To Health Care Ruling
SUBSCRIBE AND FOLLOW
Get top stories and blog posts emailed to me each day. Newsletters may offer personalized content or advertisements.
Learn more